Clinical hours give CSD students advantage at MVNU
MOUNT VERNON, Ohio (May 3, 2023) — Hands-on clinical hours have shown to make a difference to students at Mount Vernon Nazarene University's Speech-Language Pathology and Audiology (Communication Sciences and Disorders-CSD) degree. Students have achieved 100% placement in graduate programs for the sixth year in a row. The students in this year's class are Katie…
News

Speech-Language Pathology and Audiology (CSD)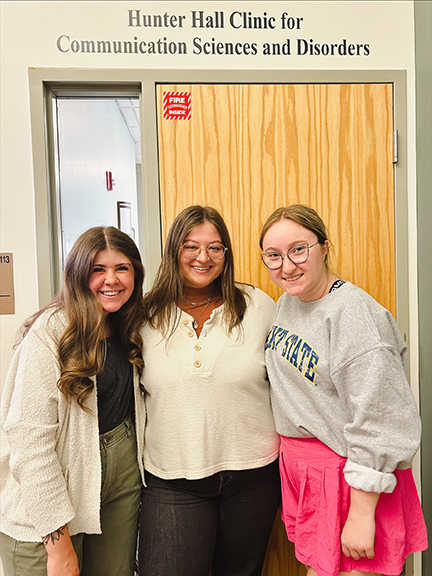 MOUNT VERNON, Ohio (May 3, 2023) — Hands-on clinical hours have shown to make a difference to students at Mount Vernon Nazarene University's Speech-Language Pathology and Audiology (Communication Sciences and Disorders-CSD) degree. Students have achieved 100% placement in graduate programs for the sixth year in a row.
The students in this year's class are Katie Cundiff, Maisy Mills and Waverly Reidenbach. A partial list of accepting programs includes Ohio University and Kent State University.
MVNU is the only Nazarene university in the U.S., and the only member of the Coalition of Christian Colleges and Universities in the state of Ohio, to offer a degree program in Communication Sciences and Disorders. MVNU operates a speech therapy clinic in its downtown Mount Vernon Hunter Hall that allows undergraduate students to gain real clinical experience.
"Clinical practicum solidifies what our students have learned in the classroom. It also helps prepare them for graduate school," said Florence Hardjono, Associate Professor and Department Chair. "Students work directly with patients. We have a unique and effective mentorship program in which juniors will 'dip their toes' in clinical experience starting the last half of their Clinical Foundation class in the fall of their junior year."
As a third- and fourth-year student in MVNU's CSD program, students work with clients in the on-site CSD clinic, as well as in the community. Students can earn up to 75 hours of experience supervised by Professor Jodeen Erfurt.
"We are blessed to have Professor Erfurt, who has been practicing as a speech language pathologist (SLP) since 1975, as our clinical supervisor," said Hardjono. "She has guided our students with her wealth of wisdom, care and love. She has unique ways of combining evidence-based practice strategies while catering to each client's unique needs and teaches it to students in a way they can comprehend. Her contribution to the success of our students is immeasurable, and we are so grateful for her."
The requirement of clinical experience at the undergraduate level is a distinct advantage of enrolling at MVNU; in many other programs, there is little opportunity for clinical work until the graduate level.
"Clinical experience is the main reason why I decided to attend MVNU," said Waverly Reidenbach. "My experience in the clinic has been so special and beneficial to me. While I was a little nervous at first, the structure of clinical really eases us into the process and helps us gain confidence before we have our own clients."
This kind of rare, hands-on experience gives students a major advantage when applying to graduate school.
"I feel so ready and equipped for graduate school," said Katie Cundiff. "Hearing from alumni who are in their master's degree programs has really encouraged me to know that our time here has prepared us well and that we will succeed in whatever setting we are in. We are leaving here not only with knowledge of disorders pertaining to speech and language but also with applicable skills that will impact our success in graduate schools."
MVNU CSD students are not only gaining valuable and important experience through the clinic that sets them up for graduate school, but they are also giving back to the community.
"My favorite part of my clinicals would have to be the reward of seeing the growth in the children's abilities after I have worked with them," said Maisy Mills. "Seeing their progress warms my heart and is a great reminder as to why I have chosen this pathway for my life."
"I have learned so much from this experience, personally and professionally," said Reidenbach. "I have learned vital lessons about being a Speech Language Pathologist, like how to write reports, take data, and interact with clients. Personally, I have learned the importance of teamwork during therapy, how to interact with client families, and how special it is to be surrounded by people with the same passion as you. In short, I would not trade my clinical experience at MVNU for the world."
For more information on MVNU's Communication Sciences and Disorders program, visit mvnu.edu/csd.