Get a Head Start on Your College Career
If you're a high school student who's up for a challenge, the state of Ohio has made a way for you to take classes at MVNU that will count toward your credits for college + graduation credits for high school. That's the jist of the College Credit Plus (CCP) program.
CCP courses can be taken on campus, online, or at one of our partner high schools.
When you wrap up your time as a student here, you'll get a transcript of your classes to share with the college of your choice. Or, stick with us! Your credits will transfer right in.
To participate in CCP, you have to be in grades 7-12 and
Have an unweighted 3.0 high school GPA OR 2.5 unweighted high school GPA and a "college ready" score on an approved exam (ACT, SAT, or *Accuplacer). Make sure you have your testing done by the end of February so you can get through the application process and don't miss the deadline!
Have submitted a letter of intent before April 1st at 5pm (this is a hard deadline). Public school students submit this to their high school. Non-public school and homeschool students must create an OH|ID account and apply through that. This has to be done every year. You'll need to attach a copy of your MVNU acceptance letter, so make sure you apply early!
Submit your transcript, test scores, school counselor form (if applicable), and parent form to MVNU
Once you're done with those 4 steps, we'll be in touch. If you meet the eligibility requirements, we'll get you on the calendar to schedule your classes!
*If you choose to take the Accuplacer at MVNU, we'll provide one test at no cost to you.
You Attend a Public School in Ohio:
If you've met the eligibility requirements listed above, CCP is *free! This includes your books, tuition, and fees. You'll be awarded up to 30 credit hours per academic year. If you take a course at your high school at the same time you're participating in the CCP program, you have to reduce the number of available credits by 3.  (Yearly CCP Credits: 30. But wait. I'm taking Pre-Calculus at my high school. CCP Credits: 30-3= 27 available credits). *If you fail a class, your family will have to pay the full price so make sure you're ready. If you're not sure, chat with your guidance counselor.
You Attend a Non-Public School or Homeschool: 
The amount of money you'll be awarded for CCP will vary depending on what is available. Get your application in early. CCP applications open mid-February. Once you've received your funding award notification, send a copy to our office ( email: dualenrollment@mvnu.edu). This type of award does not cover books. You can contact the Dual Enrollment office at MVNU to see if your non-public school is participating in our book rental program and discover what that means for you. Homeschool students will need to purchase their own books.
You're still welcome to participate in CCP at MVNU! You'll need to review the Family Pay option below.
MVNU's Family Pay program allows students who are ineligible or partially eligible for Ohio's College Credit Plus program to take dual enrollment courses at a deeply discounted rate.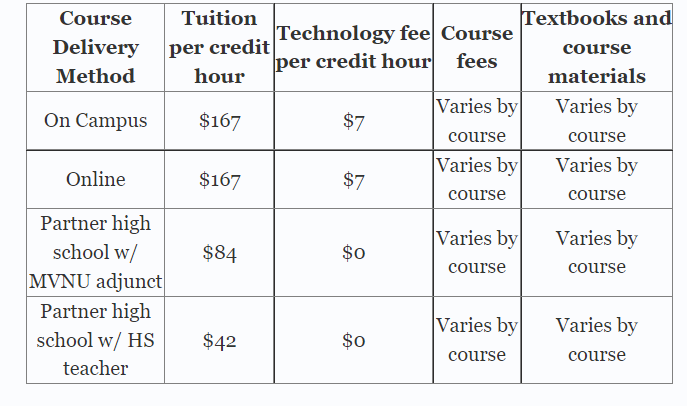 MVNU needs to know you're college ready.  There are 3 different ways you can show us.
Submit your official test scores to

dualenrollment@mvnu.edu

by requesting a copy of your ACT, SAT, or Accuplacer score from your high school counselor or testing organization and emailing them to our office.

Take the Accuplacer on our campus. In-person testing is available beginning January 2022.

Click here for available dates and registration information. 

You get one in-person Accuplacer test provided by MVNU for free. At this time, remote testing is not offered. If remote testing becomes available in the future, we'll let you know right here.

If you've successfully completed CCP courses through another college, you can submit your official transcript instead of placement test results.
Now you're ready to apply!
Just fill out our online application and have your guidance counselor send us your transcript. If your test scores are recorded on your transcript, we'll accept those as official. If not, you'll also need to send those along to dualenrollment@mvnu.edu. We'll take it from there.
Once you've been accepted into the Dual Enrollment program at MVNU, there are some important steps to take.
You'll need to schedule your courses. Your appointment date will depend on your enrollment status (part-time or full-time).

You'll be required to attend a

New Student Orientation

. These are scheduled depending on your enrollment status:
NEW FULL TIME CCP STUDENTS (12+ Credit Hours) will join the incoming freshman over the summer and attend a New Student Orientation. Get the dates and registration information here.
NEW PART-TIME CCP STUDENTS (11 CREDIT HOURS OR LESS) will join the incoming part-time freshman and attend a New Student Orientation in the summer. Get the dates and registration information here.
NEW ONLINE ONLY CCP STUDENTS will complete a virtual orientation. A link to complete your orientation will be emailed to you. But you can also get it here.
You'll need to make sure you can get your books and supplies for class. 
Public/Private School Students: Contact the Dual Enrollment Office to see if your high school is a participating book program partner and how you will get your books. 
Homeschool Students: You'll have to purchase your textbooks and materials. Make sure you have your course schedule and then go here to find out what is required for your courses.
"Even though I was still in high school, I was not treated differently by students or professors at MVNU. I made great friends and got involved in community outreach groups, clubs, and campus events. I had such a wonderful experience that I decided to continue my education at MVNU. Now, I am able to graduate in three years with a great degree."
— McKenzie M. Cellar, Dual Enrollment Student