Club Sports and Arts brings new level of competition, performance to MVNU
Mount Vernon Nazarene University is strengthening its Student Life experience with club-level competitive sports and drama through Club Sports and Arts.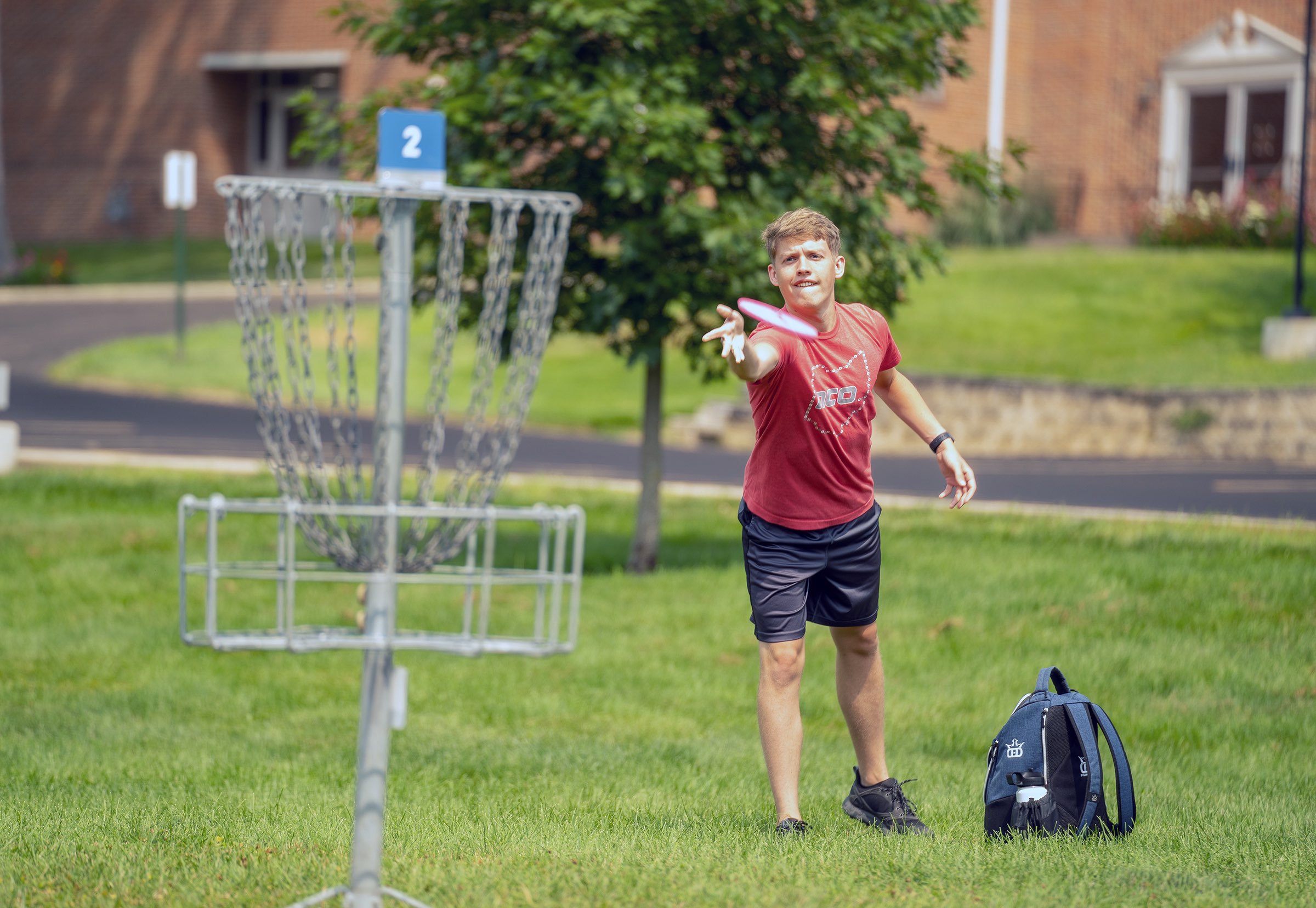 Club Sports and Arts brings new level of competition, performance to MVNU
MOUNT VERNON, Ohio (March 2, 2022)— Mount Vernon Nazarene University is strengthening its Student Life experience with club-level competitive sports and drama through Club Sports and Arts.
The new program provides opportunities for students outside the 7 percent of high school varsity athletes who go on to compete at the college level.
"As a college varsity athlete, you are told to be excited because you are one of only 7 percent of high school athletes who go on to play college sports," said Ryan Farr, Director of Club Sports and Arts, and Head Lacrosse Coach. "What happens to the other 93 percent?"
Vice President for Student Life Tracy Waal and Farr discussed how to reach the other 93 percent and the two developed Club Sports and Arts. The goal is to provide collegiate participation for those who do not pursue varsity sports, enjoy sports not offered through the athletics department, or want to indulge talents and skills in other programs.
"There are a lot of new sports that students are getting really excited about, but there isn't a varsity experience for yet. One of those that is big at MVNU is disc golf," said Farr. "There's not really a varsity experience for these athletes who put a lot of time and effort into this game and would like to continue at the next level."
What sets MVNU's Club Sports and Arts program apart from other institutions is that each program offers experienced leadership. Each activity has a coach or coordinator who is experienced in the sport or art and is not a student. In addition, this program coordinates competitions with other colleges and universities.
"Many colleges have club sports with a new student leader every year making it difficult to maintain a quality experience. The addition of a skilled coach or coordinator provides a sustainable, quality experience for our students," said Waal.
DISC GOLF
MVNU introduced disc golf with a very successful season in Fall 2021. The team participated in several tournaments and even hosted its first intercollegiate tournament with eight teams representing three colleges.
"In the inaugural season of MVNU disc golf, there was plenty of discing to be had, there were several tournaments we competed in, and MVNU hosted its first ever disc golf collegiate tournament," said Head Coach Ellis Gallion. "The golfers we had participating on the team were great guys who worked hard and had a lot of fun getting better. I look forward to seeing where the team goes from here!"
SWIM
With a fresh contract with the Mount Vernon YMCA in hand, MVNU has started a club swim team. Current and future students are encouraged to join the team which is getting its feet wet this semester.
According to Swim Coordinator Brad Snow, the advantages of a club swim team are plentiful.
"There are numerous benefits that come with starting a club swim team," said Snow. "It provides opportunities for students of all levels to create a community on the MVNU campus where you develop close friendships. It also provides students the freedom to govern themselves and keep life in balance. Club sports allows students to focus on a degree without the time commitment of a varsity team and still have the chance to swim competitively."
THEATRE
Club Sports and Arts is more than athletics. Students who love singing and performing will have the opportunity to take the stage (or other venues) in the Theatre program. According to Theatre Coordinator Zac Sherman, the new offering is open to all students willing to commit to various performances during each semester.
"Theatre is an environment that fosters skills such as communication, teamwork, discipline, self-confidence, and creativity, just to name a few," said Sherman. "Anyone who is passionate about expressing truth and being a part of something bigger than themselves is a great fit and would benefit from being involved in theatre. Our primary focus is on performers. However, there is room for stage managers, assistant directors, and designers in the program as well."
This semester, Sherman is leading students in the production of, "Anne of Green Gables – The Musical." Sherman is planning a play in Fall 2022 and a murder mystery in Spring 2023.
ESPORTS
MVNU has been an industry leader at the forefront of Esports since its inception in 2019. The very successful team has transitioned from the Athletics Department to Club Sports and Arts to better align with the spirit of competitive sport but remains intact with its varsity-level benefits. It remains funded at the varsity level, has a full-time coach, and can offer scholarships at a competitive level.
"We are excited to see how we can continue to grow as a varsity program with the new opportunities under leadership from Student Life and Club Sports and Arts," said Kyler Curtis, Esports Head Coach. "We have been blessed with talented students who are competing at a national level, and we are proud of our accomplishments so far. As Esports develops, I believe we have built the right foundation to actively contribute to the successful future of collegiate Esports."
INTRAMURALS
While interest in Club Sports and Arts has exploded on campus, MVNU's Office of Student Life maintains a robust student-led intramural sports program. Students enjoy a fun atmosphere and friendly competition against each other that includes activities such as softball, flag football, sand volleyball, indoor soccer, co-ed volleyball, basketball, and more.
There are no fees to participate in Club Sports and Arts and programs are open to current and incoming students. For more information on Club Sports and Arts, visit mvnu.edu/sportsandarts .
Programs under consideration for Fall 2022 include Roundnet, Speech and Debate, Ultimate Frisbee, and Flag Football.
To apply to MVNU or schedule a tour, visit mvnu.edu/admissions .
###