Kenyon, MVNU collaborate for art exhibit
GAMBIER, Ohio (January 13, 2023) — Kenyon College's Bulmash Exhibition Hall in the Chalmers Library presents Revolution: Mark Our Words! This Spring Semester exhibit is a collaboration between students in Professor Eliza Ablovatski's Kenyon College History seminar HIST 338: Revolt, Rebellion, Revolution, and students in Professor Laura Tabbut's Mount Vernon Nazarene University Graphic Design class…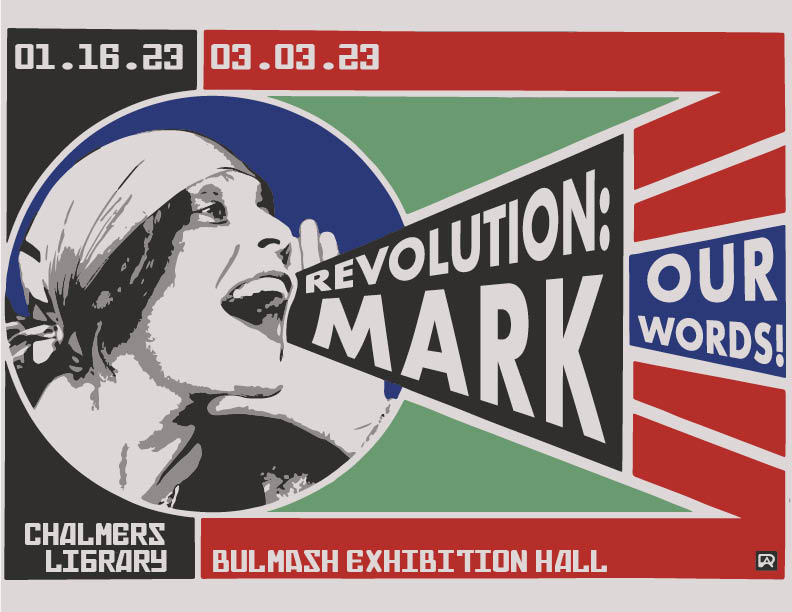 GAMBIER, Ohio (January 13, 2023) — Kenyon College's Bulmash Exhibition Hall in the Chalmers Library presents Revolution: Mark Our Words! This Spring Semester exhibit is a collaboration between students in Professor Eliza Ablovatski's Kenyon College History seminar HIST 338: Revolt, Rebellion, Revolution, and students in Professor Laura Tabbut's Mount Vernon Nazarene University Graphic Design class GRD 3023: History of Graphic Design. It will be on display in the Chalmers Library from Jan. 16 to March 3, 2023.
Revolution: Mark our Words! examines the interplay between revolutionary ideas and revolutions in print and visual technologies. Students in the two classes found examples of revolutionary moments in the history of print media and put those into the historical contexts of corresponding revolutionary political and social movements. Technological advances in printing spread political ideas to wider audiences. As a result, particular images, styles, and typefaces became associated with specific revolutionary ideas and revolutions. This exhibition looks at how political and social change has been represented through the lens of modern graphic design.
The Bulmash Exhibition Hall is located at 103 College Drive, Gambier, on the first floor of Kenyon College's Chalmers Library. The exhibit is available to view during the library's regular open hours.
###