MVNU celebrates 480 graduates in Class of 2023
MOUNT VERNON, Ohio (May 12, 2023) — Mount Vernon Nazarene University applauded the accomplishments of 480 graduates during the university's commencement ceremonies in the R.R. Hodges Chapel/Auditorium on May 6, 2023. Graduates included traditional on-campus students as well as those completing on-line programs through the School of Graduate and Professional Studies. Graduates represented the U.S.,…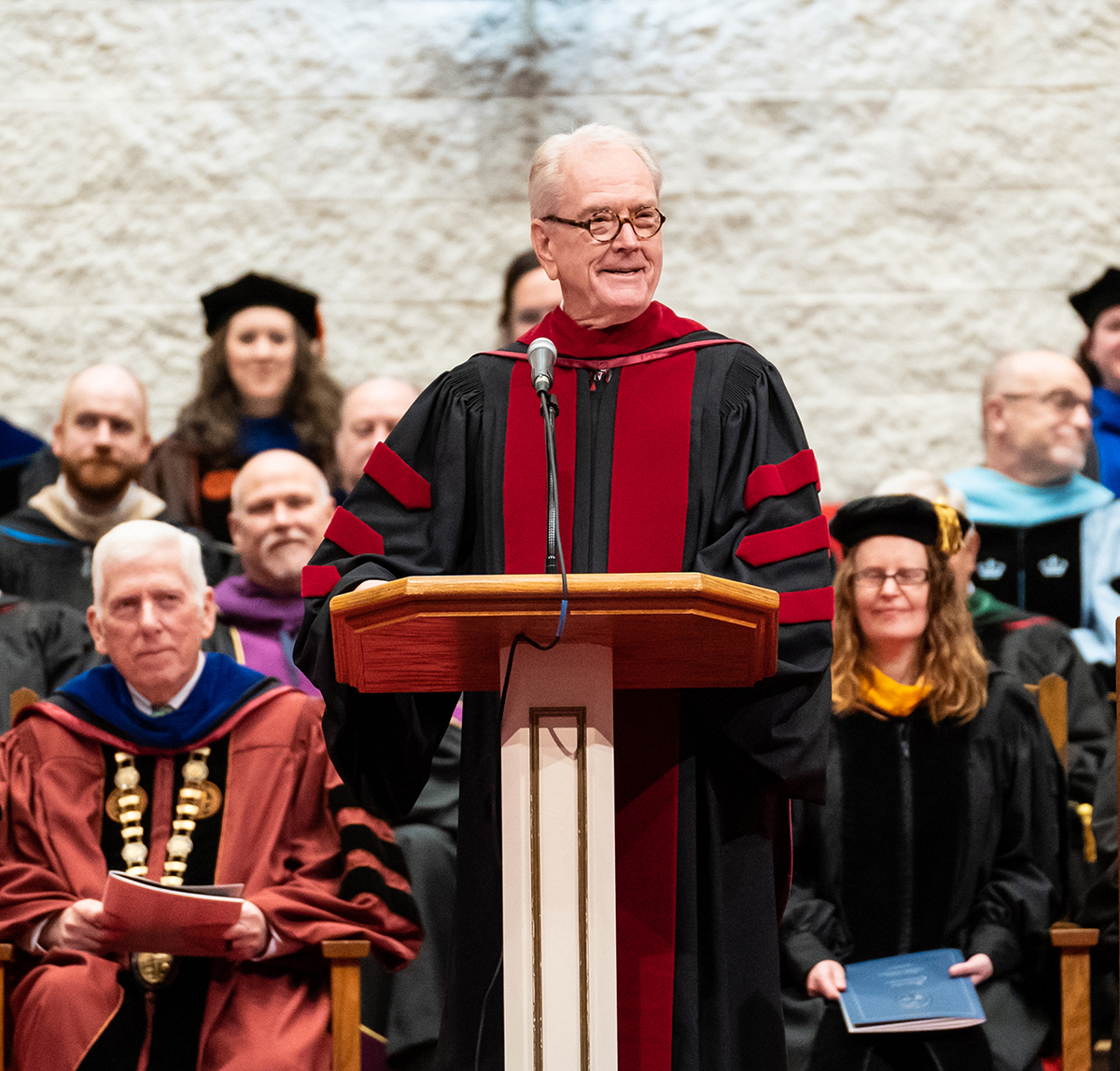 MOUNT VERNON, Ohio (May 12, 2023) — Mount Vernon Nazarene University applauded the accomplishments of 480 graduates during the university's commencement ceremonies in the R.R. Hodges Chapel/Auditorium on May 6, 2023. Graduates included traditional on-campus students as well as those completing on-line programs through the School of Graduate and Professional Studies. Graduates represented the U.S., as well as from Bermuda, Costa Rica, Lithuania, Puerto Rico, and Trinidad and Tobago.
"You have worked hard over the last several years for this day," said retiring President Dr. Henry W. Spaulding II. "We celebrate your achievement as we look forward to all the ways you will put your education to work. This day signals your commencement into the next phase of your life, whether it is a job, graduate school, medical school, law school, or marriage. We wish you well whatever your next mountain to claim turns out to be in your life."
Commencement speaker Dr. J.K. Warrick, General Superintendent Emeritus of the Church of the Nazarene, encouraged both traditional graduates and GPS graduates to never stop pursuing God's plan for their life.
"My prayer is that for which you have prepared here at Mount Vernon Nazarene University will be your life passion, your calling and that you will never grow weary in pursuing God's plan for your life in the context of that calling," said Warrick. "I would hope that as you leave this campus you will go with purpose, imagination, passion, confidence. Follow your calling and your passion. Go — still farther from home than ever in the name of our Lord Jesus Christ!"
SERVICE ABOVE SELF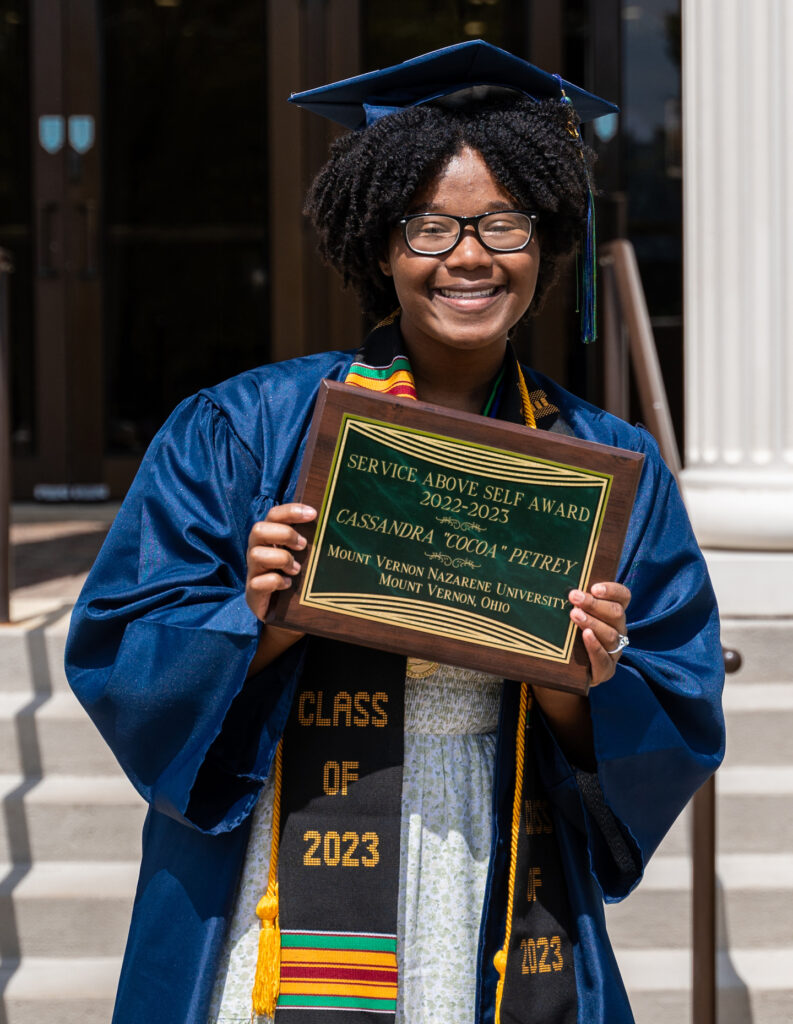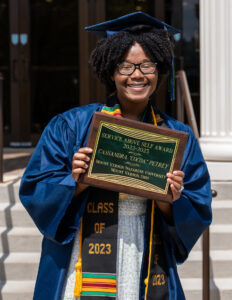 Cassandra "Cocoa" Petrey, a Biology Pre-Med and Chemistry double major, and Hunter Winey, a Christian Ministries major, were presented the Service Above Self award. The accolade recognizes students who have distinguished themselves in their college career through service to others both on and off campus. Recipients represent the highest ideal of the university motto: To seek to learn is to seek to serve.
Petrey was nominated for giving her time and talents to service others. She was a member of the Student Government Association, a Belong Group leader, and participated in the CoSMO group, Lunch Buddies, offering care to local elementary students. She also volunteered outside of MVNU with a Crisis Textline for those experiencing a wide range of difficult circumstances.
Winey was acknowledged for his extensive research project in the classroom evaluating the Crossing-Cultures General Education Curriculum as well as a research project centered around community development in Mount Vernon in partnership with the Area Development Foundation. He also served as a Student Mentor, participated in a variety of CoSMO groups, and was part of a service-learning trip to the Dominican Republic.
Other students nominated include Genesis Mena Cruz, School of Christina Ministry; MacKenzie Holder and Ryan Wolfe, School of Arts & Humanities; Brittany Miller and Jenson Thompson, Jetter School of Professional Studies; and Katie Cundiff and Liam Near, School of Nursing and Health Sciences.
EXCELLENCE IN TEACHING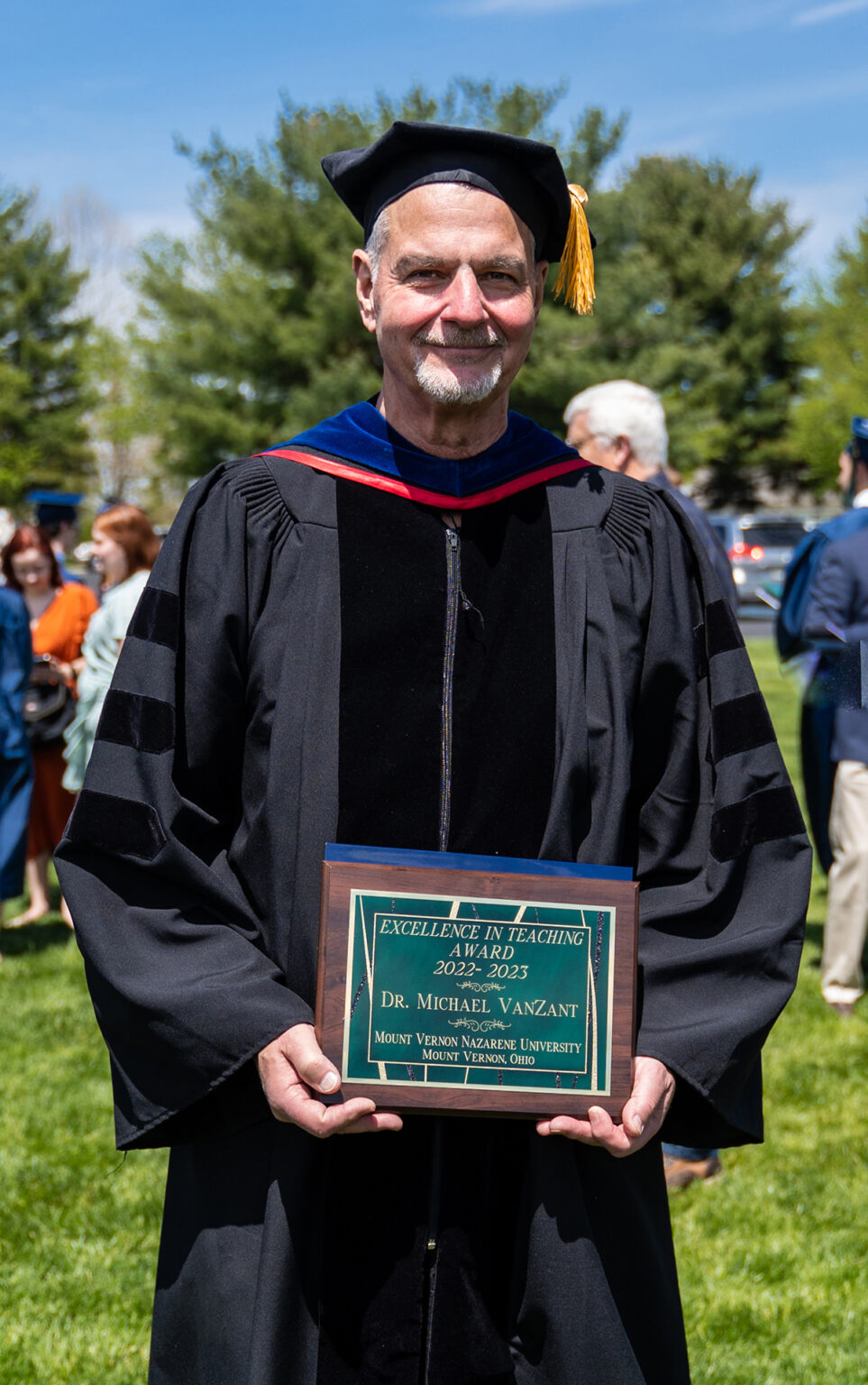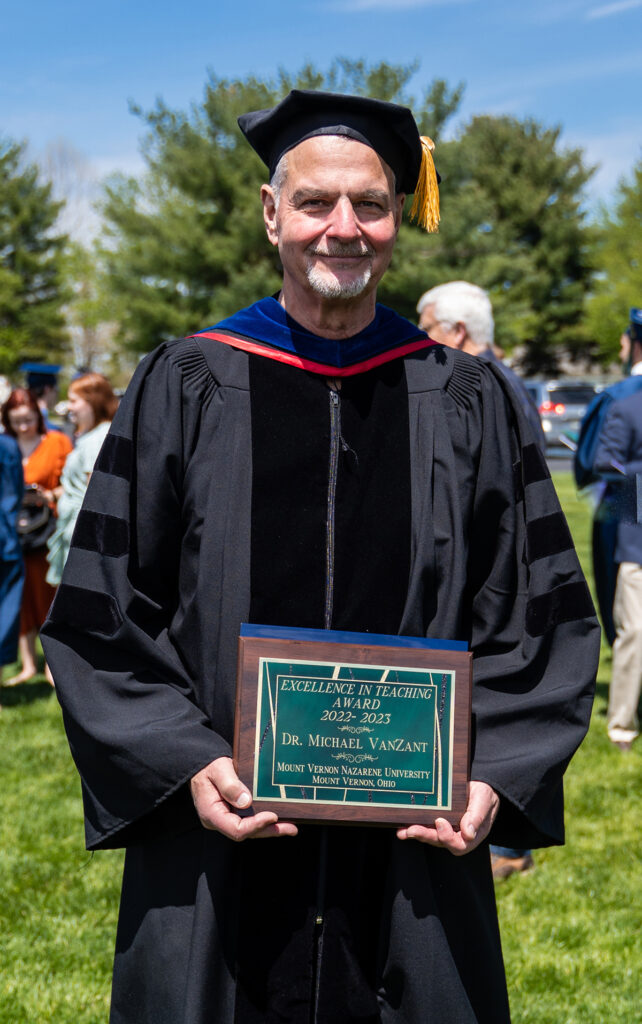 Dr. Michael VanZant, Professor of Biblical Literature in the School of Christian Ministry, was presented the 2022-2023 Excellence in Teaching Award. Faculty receiving this honor have distinguished themselves for their dedication to excellence in the classroom and as mentors of Christian virtue and are selected by the students and faculty.
"Dr. VanZant, thank you," said Dr. Amy Kovach, Vice President for Academic Affairs. "Thank you for your dedication to excellence in the classroom. Thank you for teaching MVNU students how to understand and engage the Bible. Thank you for modeling the love of Christ to all of us. While we are excited for you and your retirement, the next phase in your journey, we mourn our loss here at MVNU. However, we know that you will bring this same excellence to those you serve next."
BACCALAUREATE
The Baccalaureate Worship Service was held Friday and featured a sermon from Dr. VanZant. He reminded graduates to "embrace both your diploma and the God who has brought you this far" as they cross the commencement stage.
"God's desire for the Hebrews was to walk into the future looking backwards. Not yearning for the past but seeing all the places God had met them in life," said VanZant. "I tell you, if God was there in your pain of broken relationships, there in the dark night of the soul when life was too much, there when you celebrated and when you cried … God will be here tomorrow as you cross this stage and will be in all the unknown tomorrows ahead."
For photos of all MVNU's commencement activities, visit flickr.com/photos/mvnumarketing/albums.
Commencement ceremonies are available for viewing on demand at mvnu.tv. A full program, including a list of graduates and degrees, is available at mvnu.edu/commencement.
###