MVNU students shine during Symposium for Undergraduate Research and Creative Works
Twenty-one Mount Vernon Nazarene University students presented research and creative work during the conference-style presentations on April 5.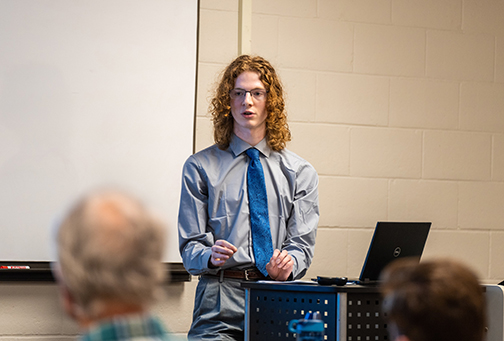 MVNU students shine during Symposium for Undergraduate Research and Creative Works
MOUNT VERNON, Ohio (April 25, 2023) — Twenty-one Mount Vernon Nazarene University students presented research and creative work during the conference-style presentations on April 5.
"The 2023 Symposium for Undergraduate Research and Creative Works (sURC) was truly a celebration of the hard work of the students over the past year," said Dr. LeeAnn Couts, Dean, School of Natural and Social Sciences, and faculty supervisor for one of the projects. "It impressively showcased the breadth and depth of student research across campus. What is more, the student presenters were articulate and professional in their delivery of their research findings. All-in-all it was a fun and engaging night for our campus community!"
Each project was given 15 minutes to present research and conclusions, or creative work, and five minutes to take questions from the audience, including faculty evaluators. Students were evaluated on presentation delivery, visual aids, interaction with the audience, organization of presentation, content, and responses during the question-and-answer session.
Benjamin Leskey, a senior, computer science major, was awarded the top prize of $100 for his project entitled, "Map Making Software for Authors and Storytellers." He was inspired to build the software after his personal struggles exploring similar tools that were either difficult to use or costly.
"This software tool lets the user draw maps without needing any drawing skill; the user just places terrain, buildings, and borders where they are in their fictional world and the mapping software renders the map appropriately," said Leskey. "It also has arbitrary scale so that the same map can have details as small as individual buildings and as large as entire continents."
Second prize of $50 was awarded to Daniel Daly, a sophomore, chemistry-forensic science major, with his presentation, "Computational Investigation of the Water Structure on Yttria-stabilized Zirconia Surfaces."
Senior chemistry major Alyssa (Van Fossen) Fraley presented two projects — one for Summer Program for Undergraduate Research (SPUR) and one for the Honors Program.
"For my Honors Project, I wanted something that combined my major (chemistry) and my future career goal (chemistry professor). I worked with my advisor to develop a lab to increase the organic chemistry lab experience. For my SPUR project, I worked with our physics professor for summer research. We wanted to find something that united our two fields, so we worked on a project that used his dissertation as a springboard and focused a lot on the chemistry side," said Fraley. "I think that the entire process really helped me in my preparation for graduate school. From the process of choosing a project, committing to working on it, to the research, and especially the presentation of it both at sURC and in paper."
Participating students and their abstracts:
Chase Hall (Biology)
Faculty Supervisor: Dr. Jon Bossley
Corydalus cornutus populations and habitat preference in central Ohio streams
Hellgrammites of Corydalus cornutus (C. cornutus) are considered one of the least tolerant organisms in freshwater ecosystems to pollution and habitat degradation. The believed trend for stream systems in Ohio is improvement, despite this many believe C. cornutus to be in decline.
Lilyann Ward (Early Childhood Education)
Faculty Supervisor: Dr. Lynn Shoemaker
Emotional Regulation in the Classroom
I made a website addressing ways of helping students emotionally regulate themselves and how the adults doing that can take care of themselves. I mostly explored practices that can be implemented in a classroom.
Sam Riffle and Daisy Latham (Computer Science)
Faculty Supervisor: Dr. Michael Robbeloth
Improvements in the Identification of Obstructed Images
The problem of detecting fully-separated images with obstructions is challenging. Using an existing obstructed image detection codebase, Ms. Latham worked to identify areas needing improvement in the exemplar characterization and sample matching algorithms. Mr. Riffle worked to identify promising new strategies for the identification of obstructed images using the machine learning algorithms from the Weka library along with making recommendations to target future improvements in obstructed image-matching routines.
Alyssa Fraley (Chemistry)
Faculty Supervisor: Dr. Zachary Graber
Creating a Methyl Orange Dye Synthesis Experiment for Organic Chemistry Labs
Exploring the creation of an Organic Chemistry lab through a methyl orange dye synthesis. This project looks at the theory of both the synthesis and the educational background of chemistry labs.
Nathan Wingert (Management)
Faculty Supervisor: Dr. Mark Shoaf
The Economics of War
A look throughout history at the ways warfare has impacted the economies of nations in order to determine how the United States should maximize the use of its military for economic gain.
Nathaniel Dersom (Mechanical Engineering)
Faculty Supervisor: Dr. Patrick Majors
Synthesis and application of a novel infinitely variable transmission
The project summarizes the creation of a continuously variable transmission system that utilizes planetary gears. Experimentation explores a theoretical boundary condition in which torque either approaches infinity or zero. Applications of the apparatus include hybrid vehicles, electromechanical regenerative systems, and digital torque converters.
Hunter Winey (Intercultural Studies)
Faculty Supervisor: Dr. Jeanne Serrao
Evaluation of MVNU's Crossing-Cultures General Education Curriculum
For my Honors Project, I conducted research on best practice for developing cross-cultural competency in students. I then used that research to evaluate the General Education Crossing-Cultures curriculum that is required for every undergraduate student in order for them to graduate.
Colton Sisler (Biology) and Hannah Crouse (Chemistry)
Faculty Supervisor: Dr. Zachary Graber
Controlling Membrane Permeability through Protein-Lipid and Cation-Lipid Interactions
Cells are surrounded by a membrane that is semipermeable. An understanding of membrane permeability can improve the efficacy of medications. This research utilizes fluorescence to example the effects of proteins and cations on membrane permeability. The results indicated that proteins can induce membrane leakage, while most cations had little effect.
Sidney Van Fossen (Psychology)
Faculty Supervisor: Dr. LeeAnn Couts
A Qualitative Study of the Effects of Childhood Trauma on Self-regulation
The effects of childhood trauma on self-regulation were investigated using semi-structured interviews of individuals providing support for traumatized children. The main themes identified were the reactivity of the child, nature of the triggers, caregivers' responses, effects on memory, child-caregiver relationship, caregiver characteristics, and intervention effectiveness. Subthemes will also be discussed.
Jenson Thompson (Finance)
Faculty Supervisor: Dr. Melanie Timmerman
Stories of Immigration
This seminar explored the stories of immigration from those who understand this topic firsthand and included a study and discussion of the national and local impact immigration has had on culture, politics, economics, media, and the church. We explored the question: how do I engage in this story?
Maggie Coe (Nursing)
Faculty Supervisor: Prof. Debra Garee
CLABSI Prevention in Neonates
Central line-associated bloodstream infections (CLABSI) are prevalent throughout all intensive care populations, but especially in the Neo-natal Intensive Care Unit (NICU), due to their increased susceptibility. CLABSI prevention has advanced in recent years, but there is still discrepancy on best practice. This research was focused on whether single prevention interventions versus prevention bundles proved to be more effective in preventing CLABSI.
Savannah Sparks (Nursing)
Faculty Supervisor: Prof. Debra Garee
Prevention of Newborn Falls
Infant falls are an avoidable issue that is prevalent in hospitals today. These falls are resulting from mothers falling asleep while holding their babies. It is proven that the use of education and a safe sleep pledge have significantly lowered the occurrence of these newborn falls.
Austin Brown (Chemistry)
Faculty Supervisor: Dr. Binyang Hou
Electrochemical Study of the Yttria-Stabilized Zirconia-Water Interfaces
Electrochemical techniques were used to study the interfacial structure changes under the influence of zinc ions on the yttria-stabilized zirconia (YSZ) surfaces on the (100), (110), and (111) orientations in contact with aqueous solution with and without externally applied electric potentials.
Hannah Crouse (Chemistry)
Faculty Supervisor: Dr. Luiz Oliveira
Assessing the Knotting and Unknotting of Proteins
Knotted proteins have been identified in approximately 1% of the Protein Data Bank (PDB) entries. However, developing an understanding of how the primary structure of the proteins fold and knot into unique configurations has been a challenge to the biophysical community. Since knotted proteins are associated with diseases, such as Alzheimer's disease and Parkinson's disease, research in this area is imperative. As a first step towards the goal of better understanding these proteins, I will present our findings from computational molecular science in which we investigated the knotting/unknotting mechanism of various knotted proteins.
Alyssa Fraley (Chemistry)
Faculty Supervisor: Dr. Binyang Hou
Electrochemical Study of the Phospholipid Monolayers at 1,2-Dichloroethane-Water Interfaces
Phospholipid monolayers at interfaces between two immiscible electrolyte solutions (ITIES) have been commonly used as model systems to investigate biological and pharmaceutical interactions in cell membranes. We used electrochemical techniques to study the DOPC monolayers at 1,2-dichloroethane-water interface. Our results indicated an increase in the monolayer thickness at lower applied potentials and a decrease in capacitance.
Daniel Daly (Chemistry – Forensic Science)
Faculty Supervisor: Dr. Luiz Oliveira
Computational Investigation of the water structure on Yttria-stabilized Zirconia surfaces
This project is centered around the computational investigation of Zirconia Dioxide and Yttria-stabilized zirconia surfaces in the (100), (110), and (111) crystallographic orientations in contact with an aqueous solution. Results were obtained by simulating the interactions of the metal surfaces with explicit water molecules after optimizing the structures.
Hannah Brandenstein (Nursing)
Faculty Supervisor: Prof. Debra Garee
The Effects of CGM Use in Diabetic Patients
Diabetes is a leading cause of death in the United States and carries a significant expenditure for individual patients as well as the healthcare system. Among diabetic patients, how does the use of a continuous glucose monitor (CGM) compared to self-monitored blood glucose impact blood glucose readings and diabetic complications.
Owen Paulus and Caleb Syler (Electrical Engineering)
Faculty Supervisor: Dr. Yuan Meng
Prototyping for a Wireless Multi-modal Sensor System on Contact Lens using Near-Field Communication (NFC) for Real-Time On-Field Concussion Assessment
To use the eye as a surrogate for the brain as a novel approach in concussion diagnosis, this presentation reports the latest progress in prototyping for a wireless sensing system on contact lens. Around NFC, coil antennas, contact lenses, motherboard PCBs, data acquisition and wireless steaming software, etc. were developed.
Alissa Miller (Biology Pre-OT)
Faculty Supervisor: Dr. Carrie Beal
Examining Spirituality and Religion in Occupational Therapy
This honor's project sought to determine the current attitudes occupational therapists and their patients have towards the incorporation of spirituality and religion into practice. I was then able to explore my own faith as a Christian by creating four Bible-based activities that could be used by pediatric occupational therapists.
Benjamin Leskey (Computer Science)
Faculty Supervisor: Dr. Robert Kasper
Map Making Software for Authors and Storytellers
A demonstration of a novel software tool useful for authors and storytellers to make maps for their stories and presentation of development process and decision-making.
For more information about MVNU, visit mvnu.edu . For more on MVNU's Honor Program, visit mvnu.edu/honors .
Mount Vernon Nazarene University is a private, four-year, intentionally Christian teaching university for traditional age students, graduate students, and working adults. With a 327-acre main campus in Mount Vernon, Ohio, MVNU emphasizes academic excellence, spiritual growth, and service to community and church. MVNU offers an affordable education both in-seat and online to nearly 2,000 students from 25 states and 11 foreign countries.
###