Schlingerman, Wiley applauded by MVNU peers
MOUNT VERNON, Ohio (February 24, 2022) — Mount Vernon Nazarene University's Excellence In The Call awards reception was held Thursday, Feb. 23, 2023, in Foster Hall. Faculty and staff gathered to applaud two of their peers – Lori Schlingerman, Facilities Administrative Assistant, and Dr. Brett Wiley, Professor of English. Schlingerman was honored for her care…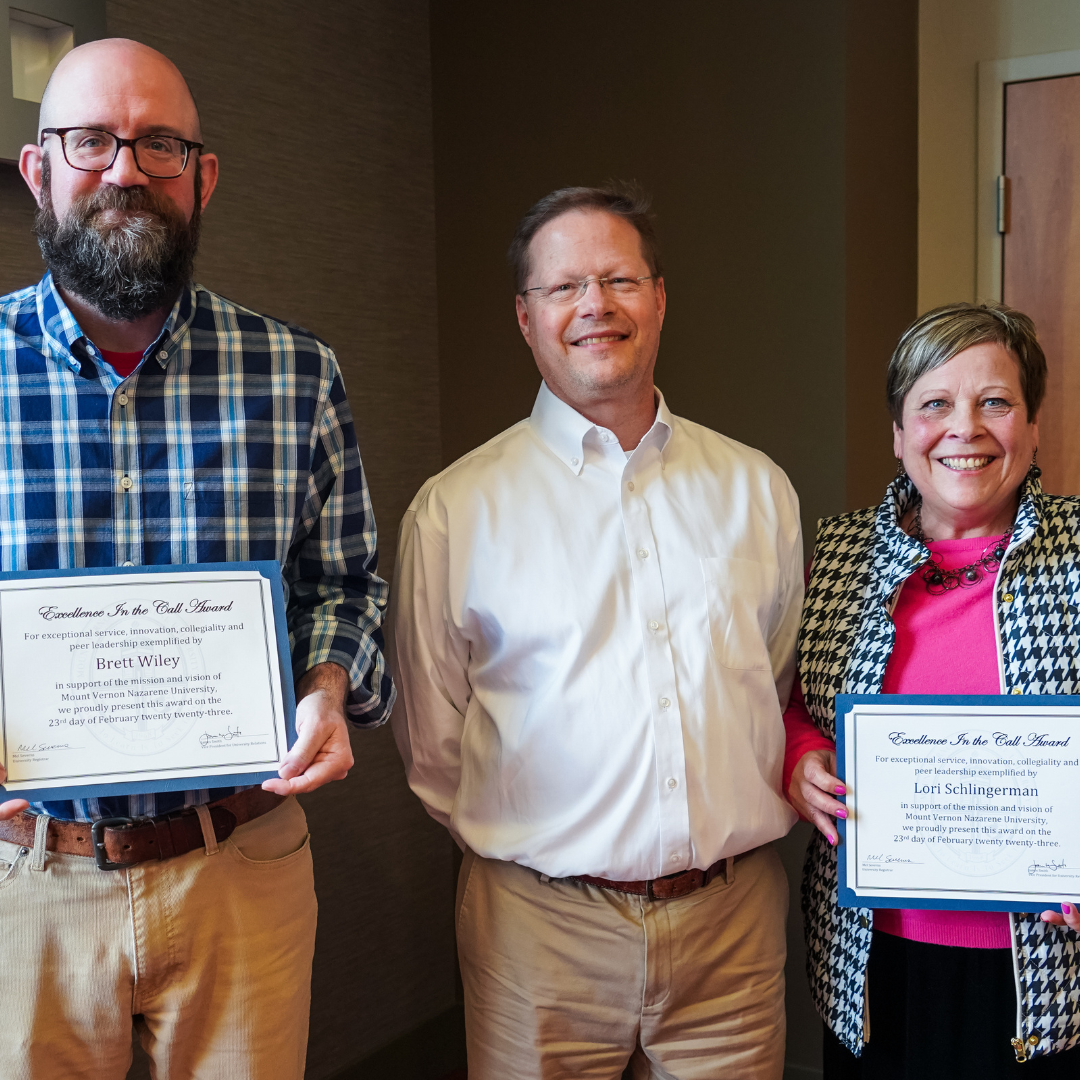 MOUNT VERNON, Ohio (February 24, 2022) — Mount Vernon Nazarene University's Excellence In The Call awards reception was held Thursday, Feb. 23, 2023, in Foster Hall. Faculty and staff gathered to applaud two of their peers – Lori Schlingerman, Facilities Administrative Assistant, and Dr. Brett Wiley, Professor of English.
Schlingerman was honored for her care for students, exemplary leadership, and joyful attitude. She works behind the scenes at Facilities to keep the needs of the campus moving forward. Peers nominated her for her leadership through service, and how she always has a kind word and smile for those who stop by her office.
"Lori is the glue that holds the housekeeping, grounds, maintenance, transportation, and safety teams together," stated one of her many peer nominations. "Lori's job is to tend to the financial, scheduling, and professional needs of each department. Her gift is that she also selflessly tends to each department's personal and spiritual needs. She knows when a teammate needs encouragement, she knows when a teammate needs to be recognized, and she knows when a teammate needs prayer."
"I have seen Lori invest in our student workers personally every year," stated another peer. "She is always willing to help them work through any difficulties they may be facing, including helping with food or when they need someone to talk to. It is a blessing to have Lori work with us on campus."
Dr. Wiley is not only a beloved English professor, but also heads the Honors Program and works on the General Education Committee. He is applauded for his proficient instruction in the classroom, grace, patience and commitment.
"Brett Wiley's thoughtful and focused work is being felt across campus as he has tackled significant revision of the General Education curriculum," said a peer. "He is all the adjectives: witty, scholarly, diligent, competent, creative. We all know him, because he is everywhere — Honors, General Education, literature classes, faculty development — everywhere epitomizing excellence in the call."
"I am consistently impressed with the dedication and care that Brett offers to our campus," said another peer. "His work in the English and History Department, with the Honors Program, and on the General Education Committee is exemplary. He continues to navigate the difficult but necessary landscape of General Education revisions with grace and patience. I think Brett sets a high bar for both professionalism and humility that is inspiring for those of us who work with him."
The quarterly award includes recognition at an employee reception, a certificate, and $500. The honor was developed and sponsored by donors, who are members of the faculty and staff, to applaud outstanding work, service, innovation, collegiality, and peer leadership as recognized and nominated from their peers. Nominations were reviewed by the Excellence In the Call Award Committee, chaired by Mel Severns, University Registrar.
###