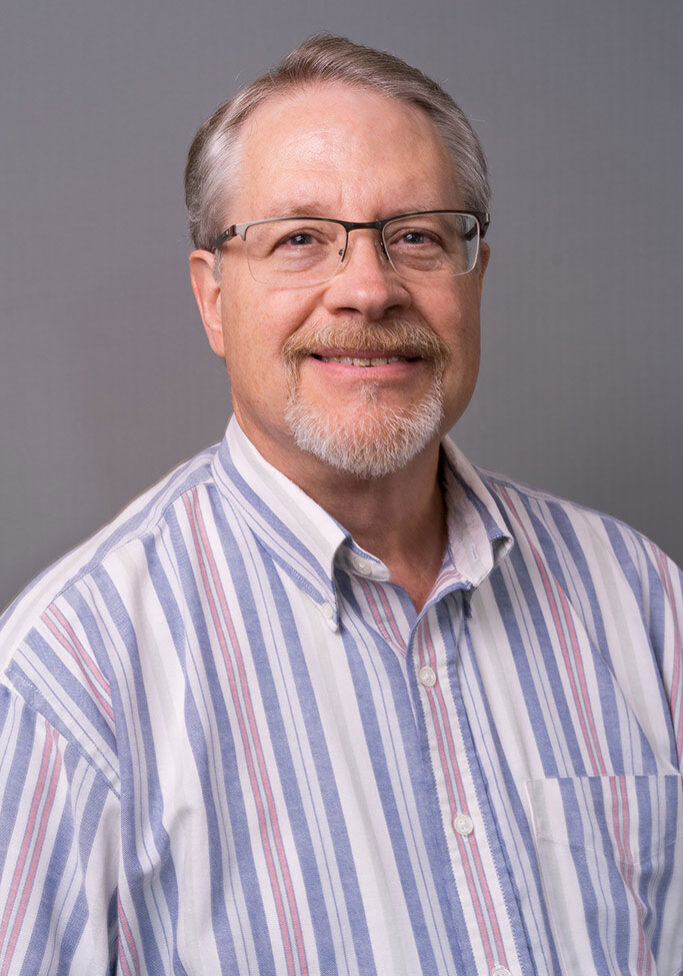 Associate Professor of Biology
School of Natural and Social Sciences
Biography

Professional Experience:

Associate Professor of Biology, August 1986 to present.
Adjunct Instructor of Microbiology, Southern Nazarene University, January to May 1986.
Adjunct Instructor of General Biology, Oklahoma City Community College, June to August 1985.
Graduate Assistant, General Zoology Laboratories, Southwest Missouri State University, August 1979 to December 1981.
Undergraduate Lab Assistant in Zoology, Comparative Anatomy and General Biology, Southern Nazarene University, 1976-77, 1978-79.
Science Teacher, Oklahoma City Science Center located at Northeast High School, Oklahoma City Public Schools, Courses taught: Microbiology, Biology, Earth Science, and General Science, August 1982 to June 1986.
Cooperating Teacher, Northeast High School for Central State University teacher education students, 1985, 1986.

Professional Organizations:

Executive Committee of the Ohio Biological Survey Advisory Board, elected to a three year term, October 1995 to present
Ohio Biological Survey Advisory Board, Spring 1992 to present.
Ohio Academy of Science, 1986 to present.
National Science Teachers Association, 1986 to present.
Volunteer member, Ohio Odonata Survey project, (Project goal: collect and identify Ohio dragonflies and damselflies), 1991 to present.
Member, Oklahoma Academy of Science, 1984-86.
National Association for Research in Science Teaching

Awards and Recognition:

Sea Grant Scholarship to attend Stone Laboratory (OSU), Summer, 1990
Mortar Board Membership, Drury College, 1978
Alpha Nu Honor Society, 1976-77, Southern Nazarene University
Outstanding Freshman in Biology, 1976, SNU

Published Works and Presentations:

Ingersol, C.A. (1991). Contributing author in: "Global Change in the Great Lakes scenarios." (Series eds. B.K. Garrison and A.R. Rosser). R.W. Fortner, project director. The Ohio Sea Grant Education program at The Ohio State University.
Ingersol, Chris A. (1992) "Bio-111G, Principles of biology lab manual." Revised edition in January, 1992.
Ingersol, Chris A., Robert F. Wilkinson, Chris L. Peterson, and Robert H. Ingersol. (1991)
"Histology of the reproductive organs of Cryptobranchus alleganiensis (Caudata: Cryptobranchidae) in Missouri." Southwestern Naturalist, 36(1): 60:66.
Peterson, Chris L., Chris A. Ingersol, Robert F. Wilkinson. (1989) "Winter breeding of Cryptobranchus alleganiensis bishopi in Arkansas." Copeia, 1989 (4):1031-1035.
Topping, Milton s. and Chris A. Ingersol. (1981) "Fecundity in the hellbender, Cryptobranchus alleganiensis." Copeia, 1981 (4):873-76.
Degrees

Education:

Continuing education at The Ohio State University.
M.S. in Biology, Southwest Missouri State University, Springfield, Missouri (1982)
B.S. in Biology, Southern Nazarene University, Bethany, Oklahoma (1979)