Mohnasky, Skeese lauded by MVNU peers
MOUNT VERNON, Ohio (Feb. 18, 2022) — Faculty and staff at Mount Vernon Nazarene University celebrated the contribution of peers during the Excellence Beyond the Call awards reception held Thursday, Feb. 17, in Foster Hall. The honorees John Mohnasky and Charlotte Skeese. They were nominated by peers and selected by the award committee through a…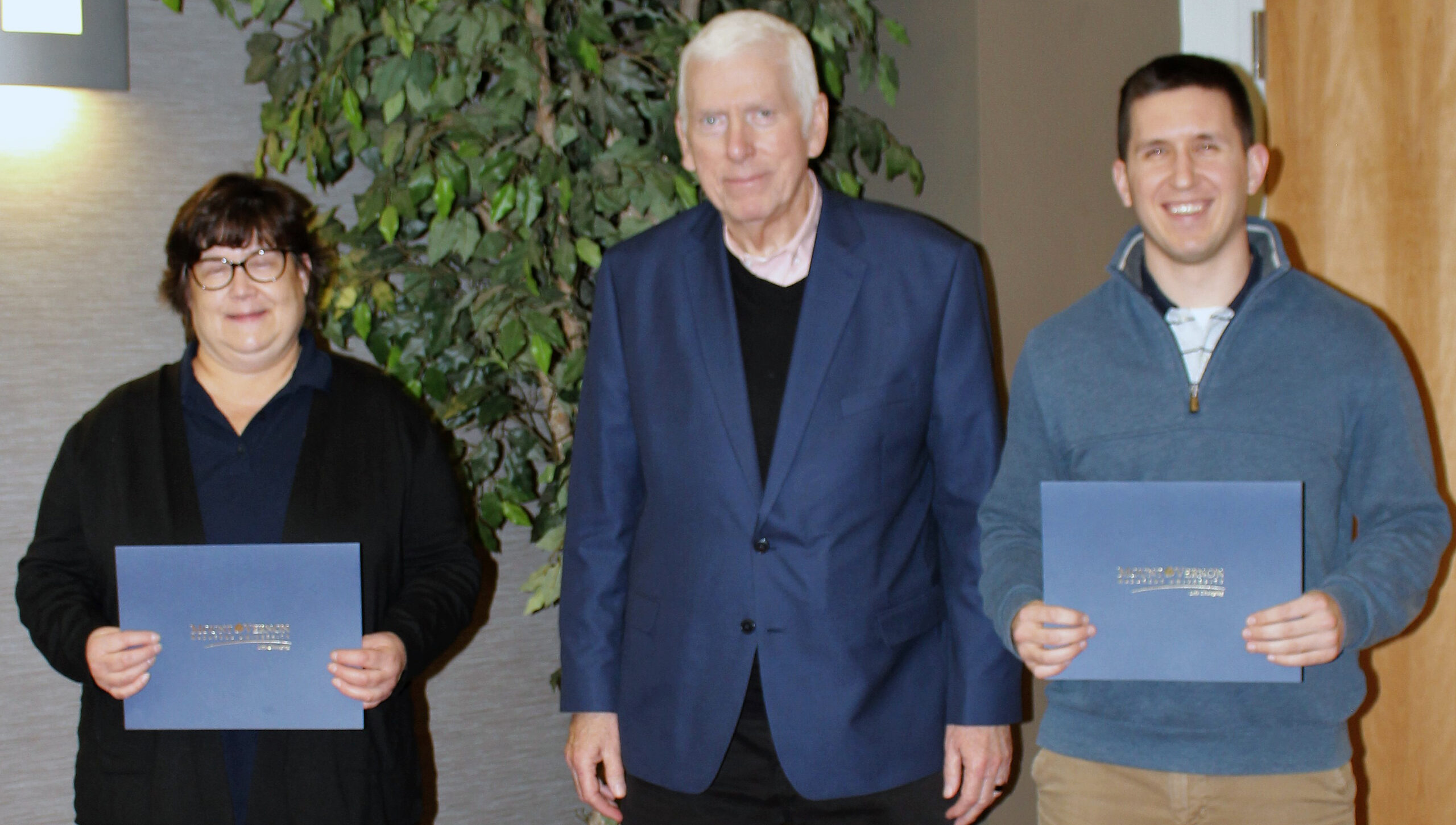 MOUNT VERNON, Ohio (Feb. 18, 2022) — Faculty and staff at Mount Vernon Nazarene University celebrated the contribution of peers during the Excellence Beyond the Call awards reception held Thursday, Feb. 17, in Foster Hall. The honorees John Mohnasky and Charlotte Skeese. They were nominated by peers and selected by the award committee through a review process.
Mohnasky, Assistant Director of Development, has left his mark in the University Relations Office, throughout campus and the greater Mount Vernon community. According to those who nominated Johnny, as he is known on campus, is quick to volunteer when his services are needed. Recently, he helped build the expansion of the disc golf course, has been integral to the university's intramurals program, organized and executed the first ever disc golf tournament during Fall semester 2021, volunteers at SonFest, and much more. In addition, he is a familiar face at Red Cross blood drives and volunteers at the Escape Zone, among other community involvements.
"Johnny has a big humble heart. At work, he is always game to jump in and help. He has never responded by saying he doesn't have time, or he doesn't know — he finds the time and will figure out the answers," stated a colleague. "What he commits to, he does so with excellence. He tackles his work with a high degree of knowledge and then tries to make processes even better. He has a lot going on in his life but is never too busy to stop by and ask how things are going in other people's lives. He gives of his time, his knowledge and has such a fun spirit! The employees and the students on this campus are fortunate to have him here at MVNU."
Charlotte Skeese serves the university as Housekeeping Coordinator and is described as caring, professional, dedicated and detail oriented. Peer nominations illustrate an employee who takes great pride in her work even as she, and her staff, conquered the many challenges of a pandemic.
"Charlotte has consistently exhibited a positive, can-do attitude. Her words are, 'I still have a job to do.' Even though there have been more set-ups, cleaning, disinfecting and challenges, Charlotte has used that as an opportunity to be a servant-leader," stated a colleague. "What she does and leads her team in doing allows the rest of us — students, staff, faculty, administrators, Board of Trustees, and guests — to be in the classrooms and participate in other campus events including classes, chapel, academic meetings, club and social meetings, athletics, concerts, Homecoming, and other events. Charlotte demonstrates 'grace under fire' on a regular basis. Doing that consistently is significant. To do so with the challenges of the last 21 months is extraordinary. Everything she does affects our campus community positively."
The quarterly award includes recognition at an employee reception, a certificate, and $500. The honor was developed and sponsored by donors, who are members of the faculty and staff, to applaud outstanding service, innovation, collegiality, peer leadership, and going beyond the call of duty as recognized and nominated from their peers. Nominations were reviewed by the Excellence Beyond the Call Award Committee, chaired by Mel Severns, University Registrar.
###