Williams, Hoag lauded by MVNU peers
MOUNT VERNON, Ohio (October 21, 2022) — Faculty and staff at Mount Vernon Nazarene University celebrated the contribution of peers during the Excellence Beyond the Call awards reception held Wednesday, Oct. 19, in Foster Hall. Honorees were Vickie Williams and Heather Hoag. Williams has been employed at MVNU for over 20 years and currently serves…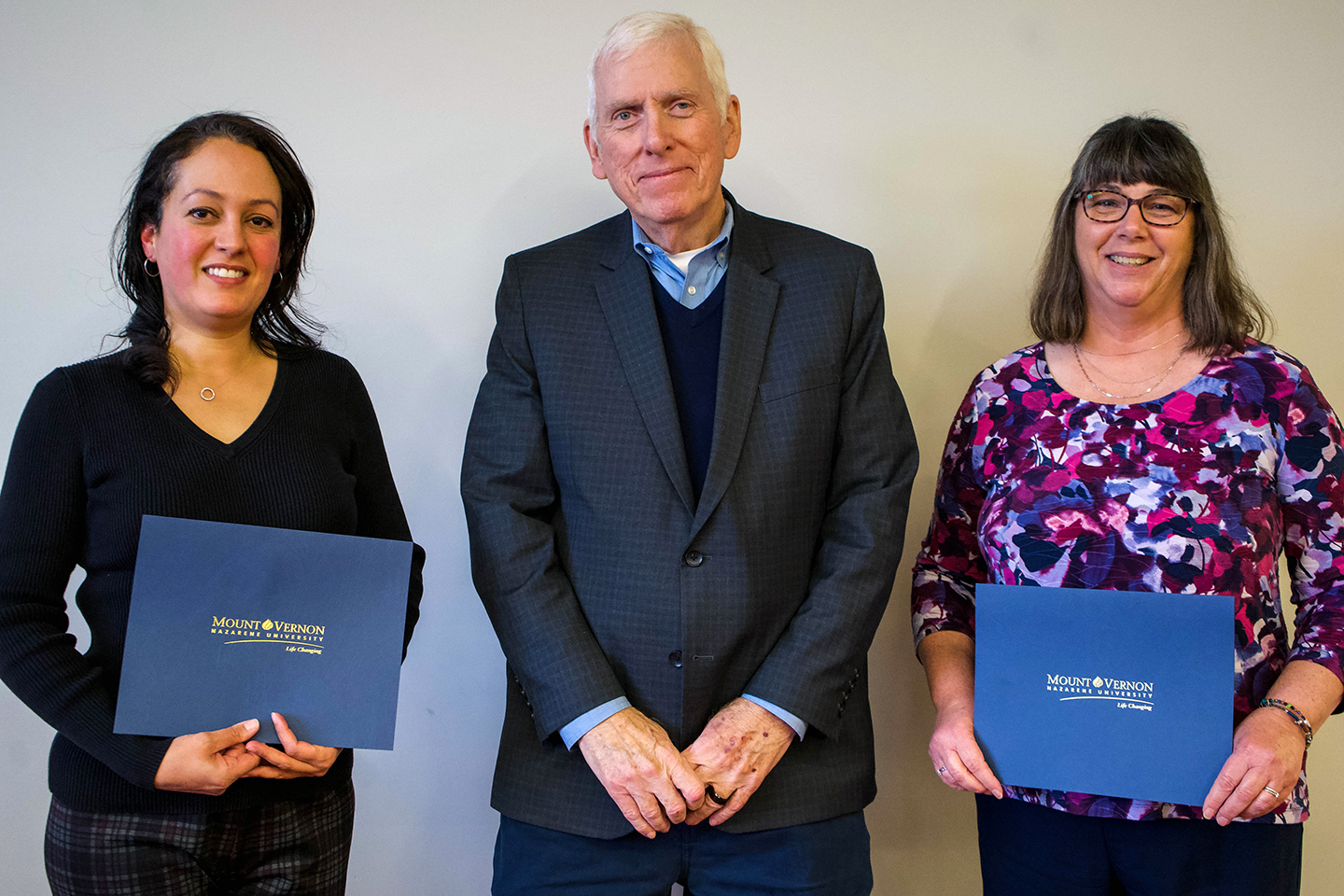 MOUNT VERNON, Ohio (October 21, 2022) — Faculty and staff at Mount Vernon Nazarene University celebrated the contribution of peers during the Excellence Beyond the Call awards reception held Wednesday, Oct. 19, in Foster Hall. Honorees were Vickie Williams and Heather Hoag.
Williams has been employed at MVNU for over 20 years and currently serves as the Director of Student Financial Services. She was recognized for her willingness to step into the interim director position, her even keel leadership and friendly disposition to any situation.
"She is patient, and kind and so willing to help whenever she can. She always goes above and beyond her office duties. She is not only a great boss, she is also a caring friend who cares and prays for us," stated one nomination.
"Our department has been in staff transition since April and it has not been easy to stay on top of all the state, federal and institutional reporting that needed to take place during that time. In addition, she has been juggling interviewing, hiring, and training new employees. Through all of the late nights, early mornings, CROA reports, Colleague reports, surveys and trainings, Vickie has kept a smile and a positive attitude. She has sacrificed scheduled time off and re-arranging personal needs in order to serve the needs of the SFS office during this transition," stated another nomination.
Hoag, Assistant Director of Alumni and Church Relations, has also been at MVNU for more than 20 years. She is described as organized, loyal, a problem solver, and a prayer warrior.
"Heather is one of the most organized people I know. She has a wealth of information about MVNU. Heather's guidance, mentorship, and advice continues to help me be a better employee. Heather is a true friend and prayer warrior," stated one nomination.
"Heather has been a constant at MVNU for many years," another nomination stated. "She has served with four different alumni directors and is the glue that has kept the office running smoothly through multiple transitions. I can't begin to count the number of times we have been trying to figure out a solution for some dilemma and Heather walks in and provides invaluable context and history for what we have tried in the past, what worked, and what didn't work. We have learned to start going to her first to learn what we've tried and hear her ideas. Heather doesn't force her opinion into a conversation, but when asked, she often helps us think outside the box and connects dots others haven't seen yet. She is beloved by our class representatives and alumni council, who constantly remind us of how valuable Heather is to our university and external relations."
The quarterly award includes recognition at an employee reception, a certificate, and $500. The honor was developed and sponsored by donors, who are members of the faculty and staff, to applaud outstanding service, innovation, collegiality, peer leadership, and going beyond the call of duty as recognized and nominated from their peers. Campus faculty and staff submit award nominations which are evaluated by the Excellence Beyond the Call Award Committee, chaired by Mel Severns, University Registrar.  
###