MVNU events empower, educate students on abuse
MOUNT VERNON, Ohio (April 28, 2023) — In collaboration with New Directions, a local sexual assault and domestic violence support center, Mount Vernon Nazarene University's Office of Civil Rights hosted its annual Take Back the Night events in April. This series consisted of three evenings of education and empowerment and brought awareness to the topics…
News

Office of Civil Rights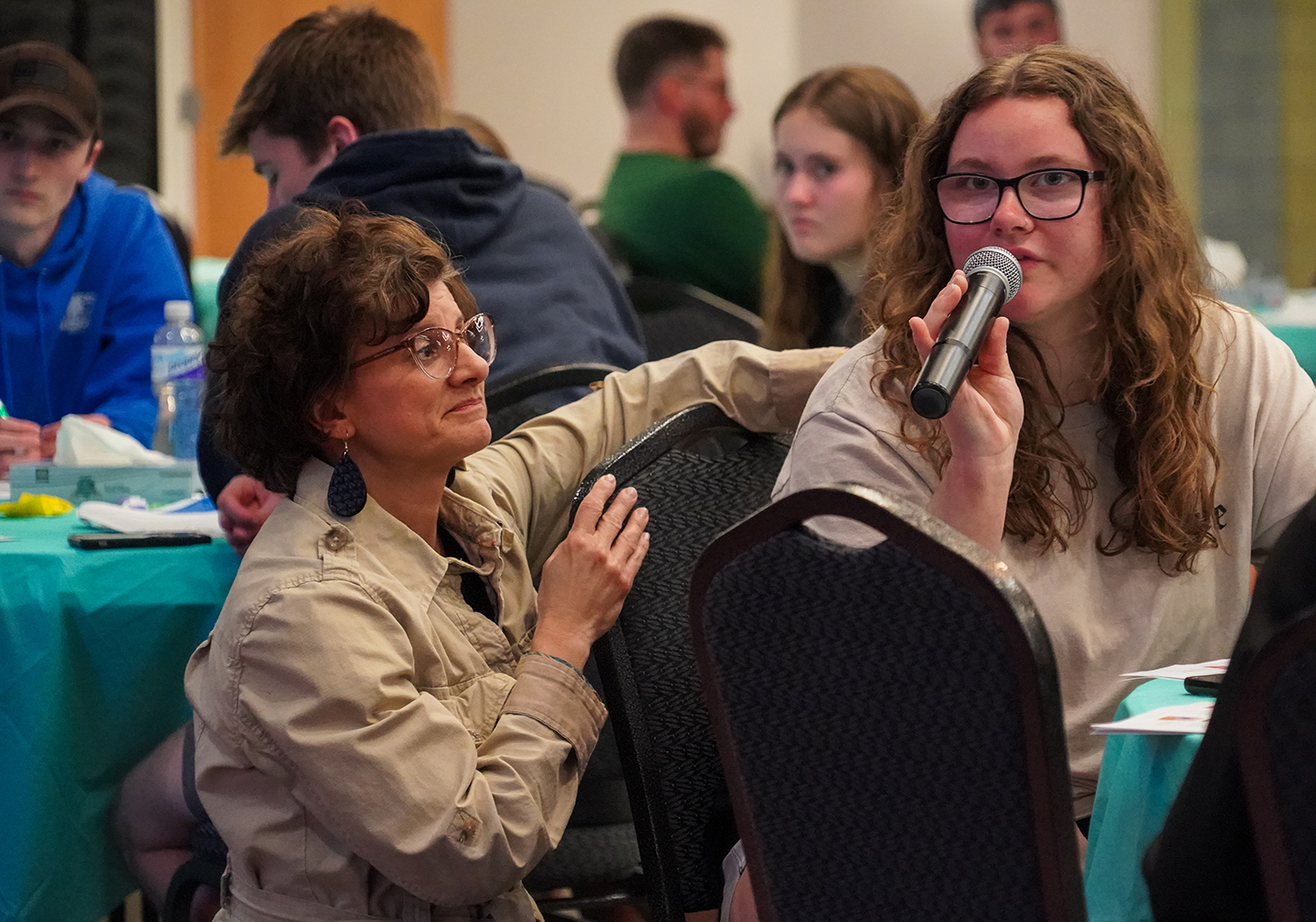 MOUNT VERNON, Ohio (April 28, 2023) — In collaboration with New Directions, a local sexual assault and domestic violence support center, Mount Vernon Nazarene University's Office of Civil Rights hosted its annual Take Back the Night events in April. This series consisted of three evenings of education and empowerment and brought awareness to the topics of sexual abuse and dating violence. Take Back the Night coincides with designated Sexual Assault Awareness Month.
Dr. Christina Jones, MVNU Civil Rights Director, holds these annual events in hopes that students will develop a plan to protect the people around them and to empower others to speak out when something has happened to them.
"Not only are these events a legal responsibility, but they exist because we care for our neighbor. From a scriptural perspective, it's vitally important that we articulate who we are and that we can be the light in the midst of something dark," said Dr. Jones.
The events started with an Empowered Panel featured the following community partners: the Honorable Judge Richard Wetzel, Knox County Common Pleas Court; Detective Sgt. Beth Marti, Mount Vernon Police Department; Christine Williams, Knox County Assistant Prosecutor; Christine White, Knox Community Hospital Forensic Nurse; Lauren Lochotzki, New Directions Sexual Assault Advocate; Liz Ewers, Knox County Prosecutor's Office Victim Advocate; and MVNU Assistant Professor Jennifer Ballenger, Youth and Family Ministries.
MVNU President Henry W. Spaulding II, Ph.D., opened the panel by calling each attendee to obey the Second Commandment — to love one another.
"Love is the key to being a good neighbor," said Spaulding. "Love means, at the very least, that we will the best for everybody we cross paths with."
The panelists answered questions prepared and posed by criminal justice students before opening the floor for questions from those in attendance. Topics discussed included early warning signs of domestic abuse, New Directions' confidential resources available to survivors and the legal processes to gain protection from defendants.
The second night encouraged conversations among New Directions staff members, MVNU community members and criminal justice students. Attendees chatted over coffee and donuts, discussing relationship red flags and green flags. Walking away with decorated coffee sleeves, the students were tangibly reminded to protect themselves and their peers.
On the third night, New Directions presented the Escalation Workshop. This event centered around one domestic violence victim's story as portrayed in a short film by One Love Foundation. Small group facilitators led their tables through discussions surrounding the topics of sexual assault and domestic violence. Counselors and advocates stood by for any students who needed emotional support during or after the film.
Survivors of sexual assault and domestic abuse are encouraged to utilize the resources available through the university and New Directions. New Directions can be reached anytime for confidential assistance by calling 740-397-4357. Dr. Jones can be contacted at titleix@mvnu.edu.
For more information on MVNU's Office of Civil Rights, visit mvnu.edu/officesandservices/office-of-civil-rights.