New MVNU Post Office named for Roberta Simmons
MOUNT VERNON, Ohio (April 3, 2023) — Mount Vernon Nazarene University officially recently dedicated its new post office as the Roberta Simmons Post Office. "Her gift is connecting with people in a very special way," said Gina Blanchard, Director of MVNU Print and Mail Services. "Sometimes she was a second mom, a friend to provide…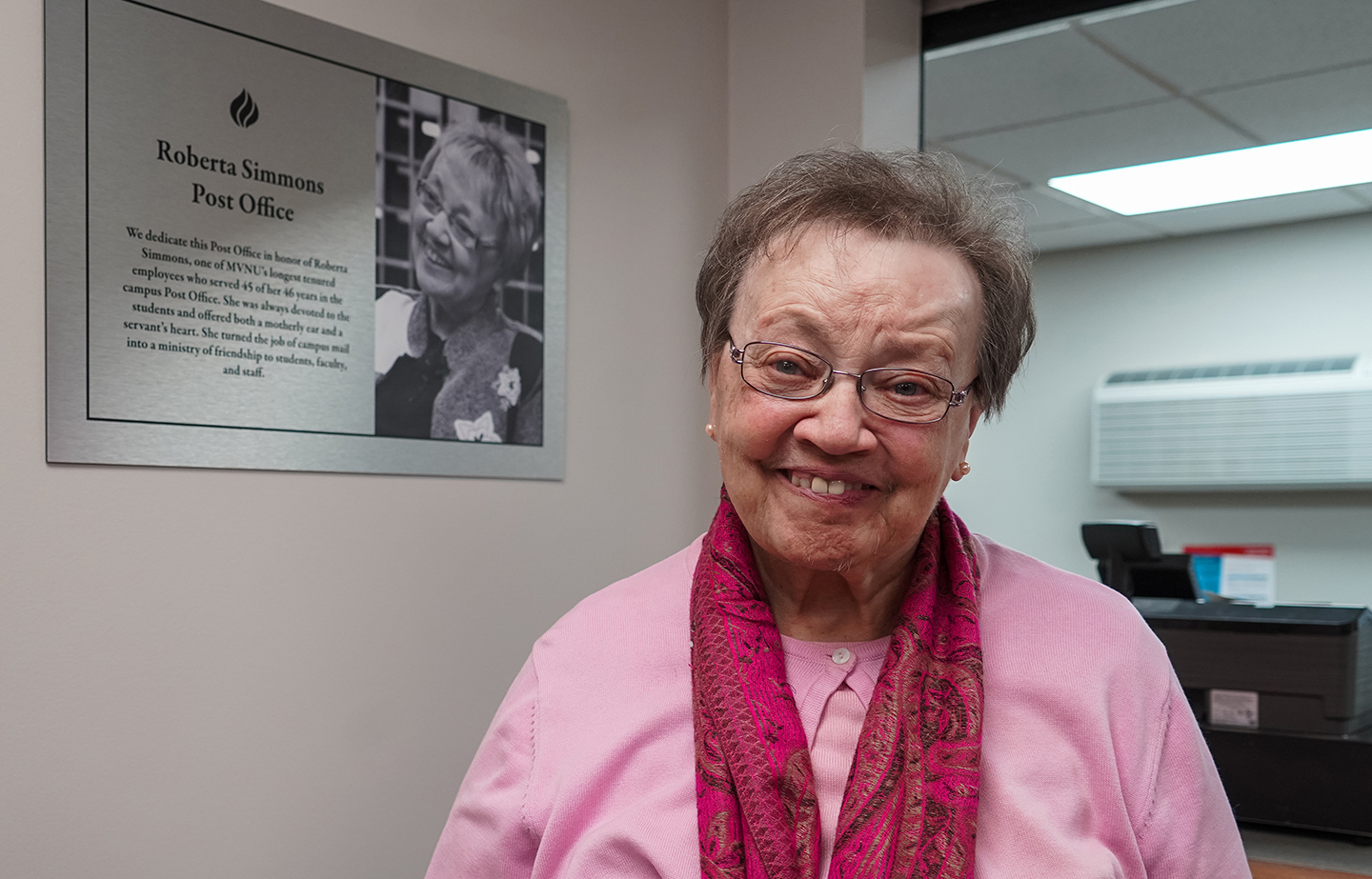 MOUNT VERNON, Ohio (April 3, 2023) — Mount Vernon Nazarene University officially recently dedicated its new post office as the Roberta Simmons Post Office.
"Her gift is connecting with people in a very special way," said Gina Blanchard, Director of MVNU Print and Mail Services. "Sometimes she was a second mom, a friend to provide a listening ear, a prayer partner and a gift giver. Roberta invested in preparing students for their first job experience. She developed relationships with students, faculty and staff that have lasted for decades! Roberta made the campus Post Office a place where everyone wanted to visit. Her spirit of kindness and love for others is quite special."
Simmons began working in the MVNU Post Office in September 1980 and served there for 39 years until her retirement in September 2019. She is one of MVNU's longest tenured employees dedicating a total of 46 years to university, faculty, staff and students.
When the new post office on campus was completed in the lower level of the Cougar Corner building, MVNU President Henry W. Spaulding II, Ph.D., and all of Simmons' colleagues knew it only made sense to honor her and make Simmons a permanent part of the new space.
"When we think of MVNU, we sometimes think of the buildings. We're proud of those and the well-manicured lawns," said Spaulding. "But really, the history of this university is written on the faces of people like you, Roberta. People who reach out and touch others in very direct ways."
Karen Bush, a former colleague and close friend, lauded Simmons for the role model she was for others on campus and how her influence in the workplace, and her personal ministry, would impact generations to come.
"Although she doesn't hold a degree from MVNU, she has always lived our motto: To seek to learn is to seek to serve. All of you who worked with her, and for her, know what a great lady she is. When you think of the students who worked for her and the impact on lives that ripples out, and ripples out — over more than 45 years. That's awesome," Bush said.
Two of those students, Serra Barrett and Micayla Zeltman, thanked Simmons for her kindness, generous heart, leadership and prayers.
Barrett spoke of Simmons' compassion and willingness to assist every student, but especially to those who worked in the post office both professionally and personally.
"In her endearing soft-hearted way, she helped me through the biggest challenge of my life. I'm so honored to be here today, to thank you Roberta, and to speak on the character and quiet strength of one of the Godliest, most Christ-like women I have ever had the privilege of knowing," said Barrett. "Thank you, Roberta, for your loving spirit and gentle ways. Thank you for being just the friend I needed. And for all the love and support you have given, not just to me, but to all of us, who are blessed enough to know you. Your legacy is long and beautiful, and I will never forget."
Simmons' granddaughter, Micayla Zeltman, reminisced about coming to work in the Post Office as a young child and again as a student worker. Through both experiences, she learned much more than the tangible skills required for post office operations.
"She demonstrated a drive for higher education and validated that women can, and should, hold a vital role in the workplace. She exhibited leadership skills by being a compassionate, fair, and honest boss to hundreds of students. Her smile is contagious and her relentless pursuit of the positive in any situation is admirable," said Zeltman. "Her impact on this campus reaches far beyond the walls of any post office — just ask any former employee or student. It's so fitting that her legacy will remain a part of them."
The new Post Office opened in Fall 2022 and is completely automated with the Notify System to alert students when a letter or package arrives on campus. Students receive an electronic notification to prompt them to come to the Post Office for pick up. According to Blanchard, MVNU students have responded extremely well to the new location and expediency of letter and package notification.
For more information on MVNU, visit mvnu.edu.
###