Online Digital Marketing Degree Programs
The online digital marketing degree at MVNU teaches students how to strategize and scale businesses ranging from small start-ups to large corporations. The BBA in Digital Marketing program prepares students to immediately impact their organizations by enhancing brand awareness and sales. Digital marketers are pioneers in their field as they continually implement newer technologies and better optimize marketing campaigns. Students who study for their digital marketing bachelor's degree online have the opportunity to compete on a global scale by leading marketing campaigns in industries of their choice.
By studying digital marketing at MVNU, students can carve out a niche for themselves in an expansive industry that can include search engine optimization marketing, social media, pay-per-click, lead generation, and more. This program is designed to complement the general marketing curriculum to provide students with a well-rounded foundation and emphasis on real-world applications. Our online Digital Marketing program courses run for 5 to 8 weeks and help students gain essential skills such as collecting and utilizing data to tackle complex marketing campaigns.
Classes Start Every Month Throughout The Year
*Based on students beginning the program with 56 transferable credit hours and only needing the program-specific classes. Time to completion varies based on individual student circumstances and previous college experience.
**30 credit hours of the program must be completed at MVNU. Other restrictions apply. Please contact our Enrollment Team for additional information.
Building upon 40 credit hours of traditional business coursework, the fifteen (15) credit hours of Digital Marketing Core courses cover web analytics, social media targetting, identifying user intent to maximize digital marketing campaigns, and optimizing existing email campaigns to achieve top-of-funnel level growth.
Social Media Marketing
Email Marketiing
SEO and SEM
Digital Marketing Analytics
Digital Marketing Viral and Organic Growth
Curriculum stats/highlights
Digital Marketing, BBA
Required Courses (55 hours)
Student Success Strategies
Spreadsheets for Leaders
Management and Leadership Techniques
Microeconomics
Macroeconomics
Organizational Behavior
Business Accounting
Business Marketing
Business Statistics
Business Finance
Global Perspectives in Business
Business Ethics and Law
Managing Human Resources
Strategic Planning
Social Media Marketing
Email Marketing
SEO and SEM
Digital Marketing Analytics
Digital Marketing-Viral and Organic Growth
1
3
3
3
3
3
3
3
3
3
3
3
3
3
3
3
3
3
3
How much will it all cost?
Apply for scholarships, loans, grants, and tuition reimbursement.
Career-Focused Coursework
Too often, traditional marketing programs leave students unprepared for the demands of successful marketing in a digital world. In contrast, our program focuses on SEO, SEM, content and social media marketing, web analytics, and email marketing methods — critical skills many firms look for in prospective employees. MVNU students have an opportunity to gain strong career competencies and graduate with the ability to find success in several in-demand jobs.
Courses span 5 to 8 weeks and can prepare students to:
Understand web-based marketing channels
Evaluate potential marketing opportunities
Implement a marketing campaign and analyze its performance
Create compelling B2B and B2C marketing copy
Gain basic visual content creation knowledge for social media and other channels
Develop marketing-specific critical-thinking and problem-solving skills
Effectively communicate digital marketing solutions to an audience
Learn what drives consumer behavior online
Careers In Digital Marketing
As an ever-growing industry, there are many ways to begin a thriving career in the world of digital marketing. Business owners are continually searching for new ways to leave their mark on the digital landscape, from large companies to growing shops and firms. This provides a vast window of opportunity for agencies to invest in graduates who can effectively boost brand visibility and gain a competitive edge through modern marketing strategies.
According to the Bureau of Labor Statistics, marketing managers have the potential to earn a median salary of up to $135,900 per year. The industry is expected to grow 6% throughout the next 10 years, a rate that's faster than average. Due to the ever-changing technology and business models in this field, MVNU graduates with a digital marketing degree can take the fundamental skills they've learned and apply them in innovative ways throughout their careers.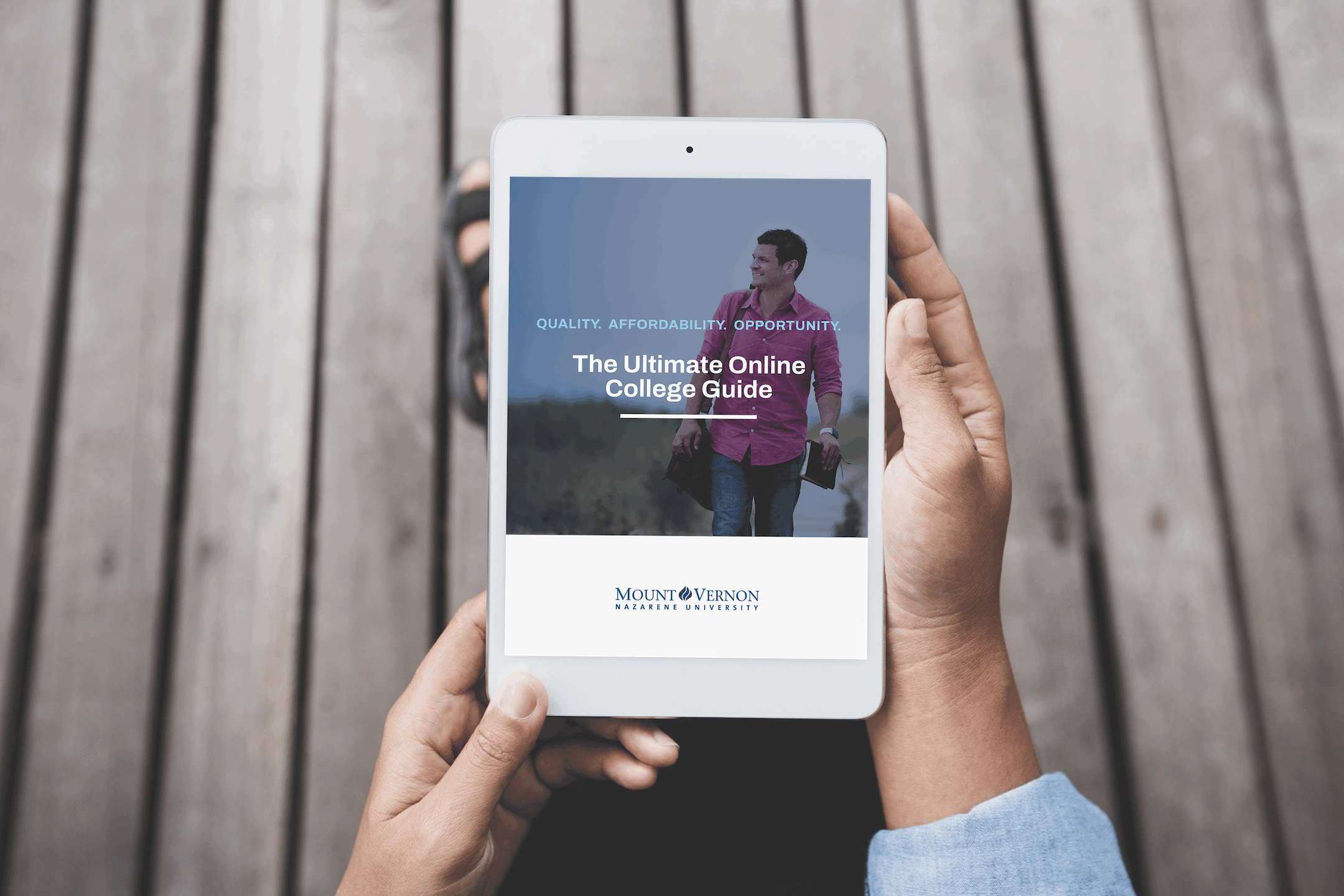 IS ONLINE COLLEGE RIGHT FOR YOU?
Learn how online degree programs can take your career to the next level with The Ultimate Online College Guide.