Partnership expands MVNU campus medical care
MOUNT VERNON, Ohio (March 18, 2022) — Faculty, staff and students at Mount Vernon Nazarene University now have convenient on-campus access to medical care thanks to a partnership between the university and Knox County Community Health Center, a local Federally Qualified Health Center which is a clinical branch of Knox Public Health. Lindsey Gilkey, a…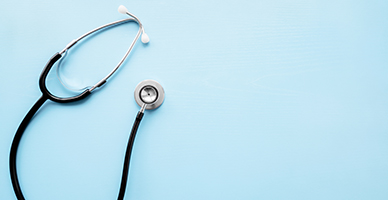 MOUNT VERNON, Ohio (March 18, 2022) — Faculty, staff and students at Mount Vernon Nazarene University now have convenient on-campus access to medical care thanks to a partnership between the university and Knox County Community Health Center, a local Federally Qualified Health Center which is a clinical branch of Knox Public Health.
Lindsey Gilkey, a certified nurse practitioner from the KCC Health Center, now provides services to faculty, staff, and students (both residential and commuters) Tuesday afternoons and Thursday mornings at the MVNU Student Health Services building. Both primary care and acute care services are available.
Campus Nurse Jo Lee Carrier has seen a growing need from faculty, staff, and students to provide more services on-site to meet the healthcare needs of MVNU's thriving on-campus community.
"Bringing a certified nurse practitioner to our students, faculty, and staff fills a void that's been missing on our campus for quite some time," said Carrier. "Providing quality and convenient healthcare where it's needed, when it's needed, creates a stronger, healthier MVNU Community."
The MVNU Community, including the immediate family of faculty and staff, now can meet with Gilkey for a variety of illnesses or routine healthcare needs. In addition to sick care and treatment, other needs like prescription refills and employment physicals are conducted conveniently on campus.
The goal of the partnership is to provide as much care to faculty, staff, and students as possible, without needing to leave campus. Additional benefits include:
•On-site testing with convenient online results;
•Basic mental health care including treatment for depression and anxiety (counseling can be arranged through the KCC Health Center's main clinic);
•Women's health services; and
•Treatment for common illnesses and conditions such as sore throat, stomach bug, or lab tests.
Removing the barrier of transportation and having such a convenient location to squeeze in an appointment between classes helps provide the scheduling accommodations needed by so many on the busy collegiate campus.
"COVID has reminded MVNU of the crucial importance of quality healthcare on campus. The rich partnership with Knox Public Health throughout the pandemic has already enhanced our ability to serve our students. Bringing essential services to our community is great news for everyone on MVNU's campus," said MVNU President Dr. Henry W. Spaulding, II.
Considering the unique partnerships with the KCC Health Center, all patients are accepted no matter their ability to pay for services. This includes coverage of all private and Medicaid insurance plans, plus a sliding fee scale for self-pay patients and payment plans to cover out-of-pocket expenses.
Appointments are available Tuesdays, from 12:45 to 4:15 p.m.; and Thursdays, from 8 to 11:15 a.m., by calling the nurse's office at 740-507-0275 or email nurse@mvnu.edu. Walk-ins are welcome during the same hours.
###