Stewart named Crossroads League's Sports Information Director of the Year
MOUNT VERNON, Ohio — Mount Vernon Nazarene University and its Athletic Department are proud to announce that Alex Stewart ('17) has been named the Crossroads League's 2022-2023 Sports Information Director of the Year. He is the first SID at MVNU to win this league's award. "I am honored to receive this award," said Stewart. "I…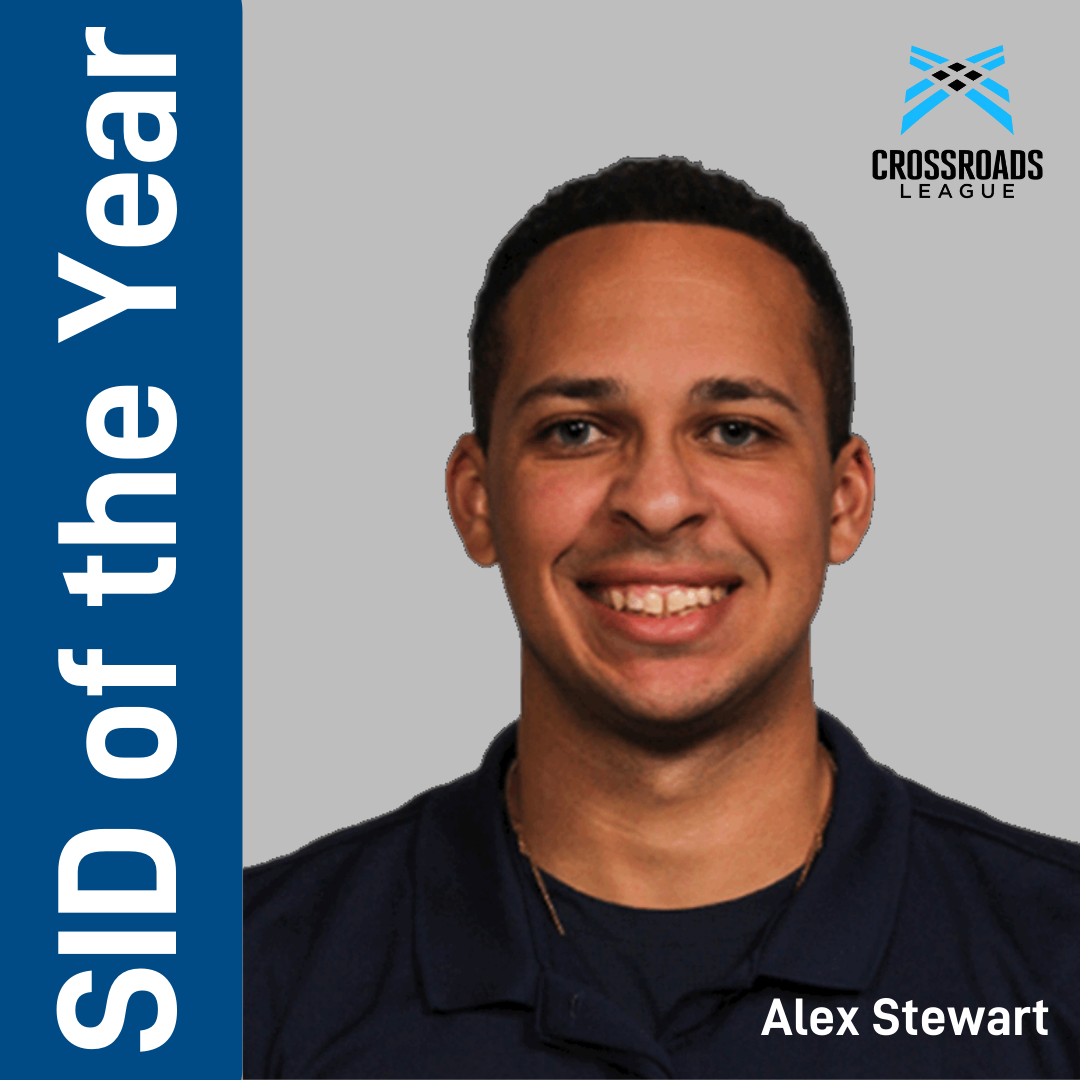 MOUNT VERNON, Ohio — Mount Vernon Nazarene University and its Athletic Department are proud to announce that Alex Stewart ('17) has been named the Crossroads League's 2022-2023 Sports Information Director of the Year. He is the first SID at MVNU to win this league's award.
"I am honored to receive this award," said Stewart. "I truly believe that the Crossroads League has the best group of SIDs in the country, and to be voted as the Sports Information Director of the Year by my peers means a lot to me."
Stewart just finished his third year as SID and has served as an assistant coach with MVNU's women's basketball for three seasons. He graduated in 2017 from MVNU and was a graduate assistant with Sports Information for two years. He has a bachelor's degree in sports management and an MBA in organizational management.
"I am very proud of Alex for this accomplishment," said Chip Wilson, MVNU's Director of Athletics. "The SID world is challenging and demanding, and I am thankful for his continued hard work and effort to serve our student-athletes and entire Athletic Department at MVNU. He is continuing to improve and learn, and I have seen tremendous growth in him this year. Congratulations, Alex, on this well-deserved honor."
The award is presented by the Crossroads League following a vote by the athletic directors and sports information directors from the 10 schools in the league.
Stewart is recognized for his hard-work and dedication to MVNU's student athletes which includes 550 articles and the creation of over 1,000 social media posts. This year, Stewart also led the athletic website redesign and assisted in MVNU's first athletic rebrand in over 20 years. He also recently helped host the Crossroads League Softball Tournament.
"I would like to thank Graduate Assistants Braden Mast and Kaitlin Meade for all their hard work and help throughout the year," said Stewart. "I would like to thank Chip Wilson for believing in me and giving me the room to grow and execute my vision. I would like to thank the student athletes as well — without them, none of this is possible. It is a pleasure to be able promote their accomplishments and give them the platform that they deserve for all the hours and hard work that they all put in. And lastly, I would like to thank Coach Amanda Short and my MVNU basketball family for the constant support and encouragement over the past three years."
For more information on MVNU Athletics, visit mvnucougars.com.