Tocheffs celebrated during MVNU Homecoming
Dr. Bob and Diana Tocheff received accolades from Mount Vernon Nazarene University's Alumni Council and Greater Alumni Association during the 2022 Homecoming Chapel.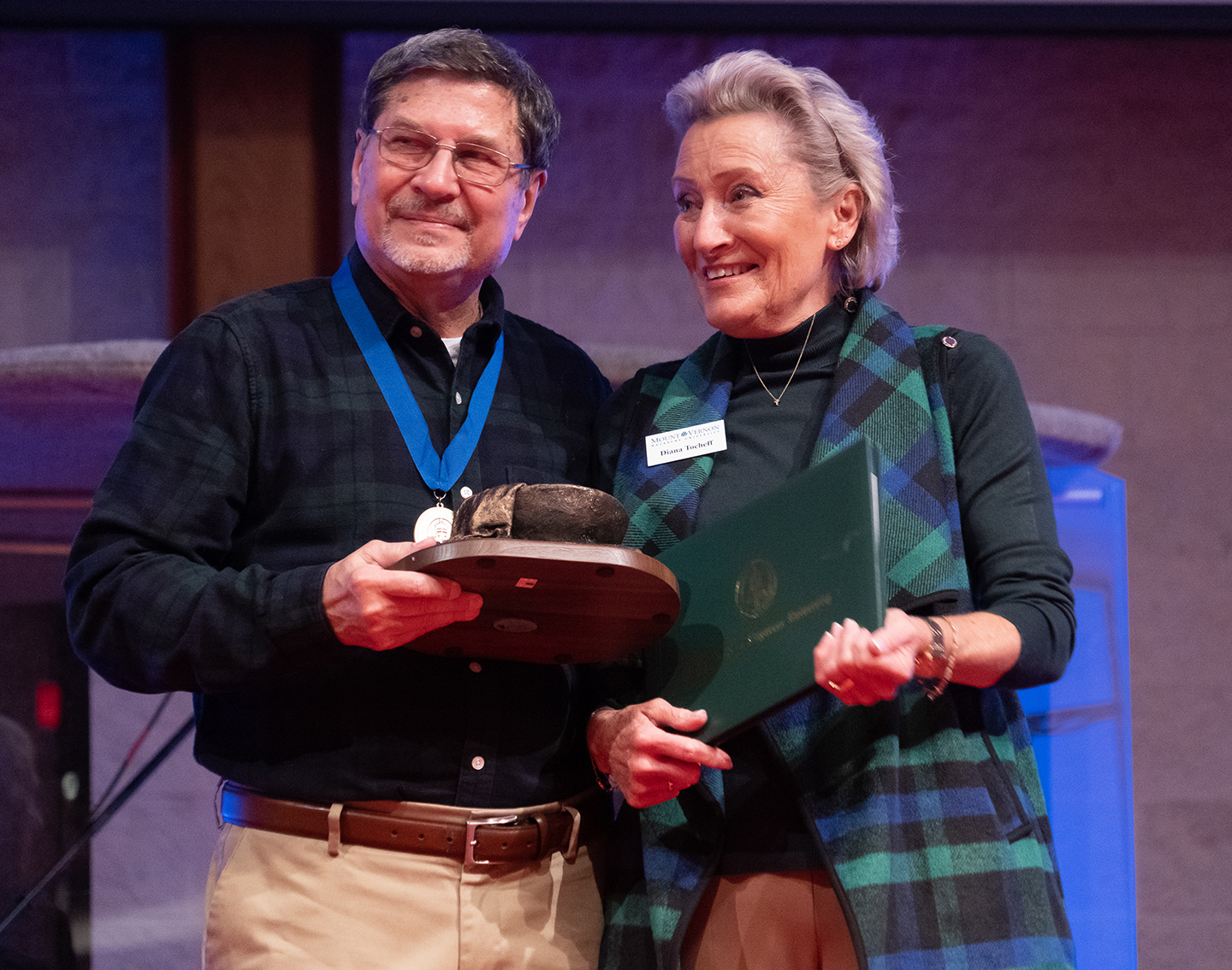 Tocheffs celebrated during MVNU Homecoming
MOUNT VERNON, Ohio (November 15, 2022) — Dr. Bob and Diana Tocheff received accolades from Mount Vernon Nazarene University's Alumni Council and Greater Alumni Association during the 2022 Homecoming Chapel.
Dr. Bob Tocheff ('72), MVNU professor of music since 1981, was awarded the Distinguished Alumni Award.
The Alumni Council and the Greater Alumni Association present the award to recognize alumni who have shown and modeled the values of the University in their lives and careers.
"Dr. Bob Tocheff is beloved to both alumni and current students. He was part of the Golden Grads Class of 1972. He has been with MVNU as a professor for over 40 years," said James Smith ('99), Vice President for University Relations. "He has served as a department chair, instructor of Collegian Chorale and Treble Singers, and he started directing the holiday tradition of the Messiah in 1991. Bob has taken his talents throughout the community by directing choirs at Lakeholm Church and the First Church of the Nazarene. Bob has lead student and alumni trips to a dozen foreign countries to share God's word and music. He can also be seen greeting visitors in chapel and using personal time to reach out to potential students."
Diana Tocheff was presented with the Honorary Alumni Award which recognizes a member of faculty, staff or university friend, who is influential in the life of the university and demonstrated continuing interest in MVNU.
"Diana's heart is pure gold. Her warmth is directed to all students, alumni and employees to make them feel special and heard. Diana has started in numerous positions since she joined the university in 1999 — she has worked in Church Relations, our downtown campus, and Alumni Relations, which made it very difficult to hide these awards the last few weeks," said Smith. "You can find Diana at events capturing special moments with her camera or beautifying the chapel at Christmas time for all to enjoy."
The Tocheffs, described as the "dynamic duo" often work together to provide for various needs of students from snacks to auto mechanics.
"When they learn of a student in need, they work together to help meet those needs. They supply students with help where it is needed and can be seen jumping into action when a student's car won't start, or other needs arise," said Smith.
"It's difficult to imagine a more satisfying atmosphere in which to be presented the Distinguished Alumni Service Award as in this year's Homecoming Chapel. To say I was surprised would be an understatement," said Bob. "To share this experience with my Golden Grad Class of 1972 was perfect in that it is with these people I first developed my love for this institution, which only has grown in my 42 years as a faculty member. And then, for my wife to be presented with the Honorary Alumni Award at the same time, and for some of our family to be present, well, I am beyond grateful. Grateful to God for leading me to attend MVNC/U then provide me a place to practice my craft of music is beyond description. I continue to learn; to seek to service and to help students live out the MVNU vision: To Change the World with the Love of Christ."
"I was so humbled and blessed to be presented the Honorary Alumni Award with my husband standing next to me on the Chapel platform during the Homecoming Chapel service," said Diana. "Working at MVNU has, and continues to be, very rewarding in so many ways. The students have become part of our family. From traveling on countless Collegians Chorale tours, six Collegians Chorale Missions/Ministry trips, to having one of the choir members live with us for her senior year. So many students, staff, and faculty became prayer warriors when I was diagnosed with cancer in 2005, and when Bob and I lost our parents over the years. I am so grateful to God for this place – MVNU. Now it is such an honor and privilege to be considered an alumna."
For more on MVNU, visit mvnu.edu.
###