Donors get first look at CH4 Stadium
Mount Vernon Nazarene University gave a first look of the new CH4 Stadium to donors and partners on July 21.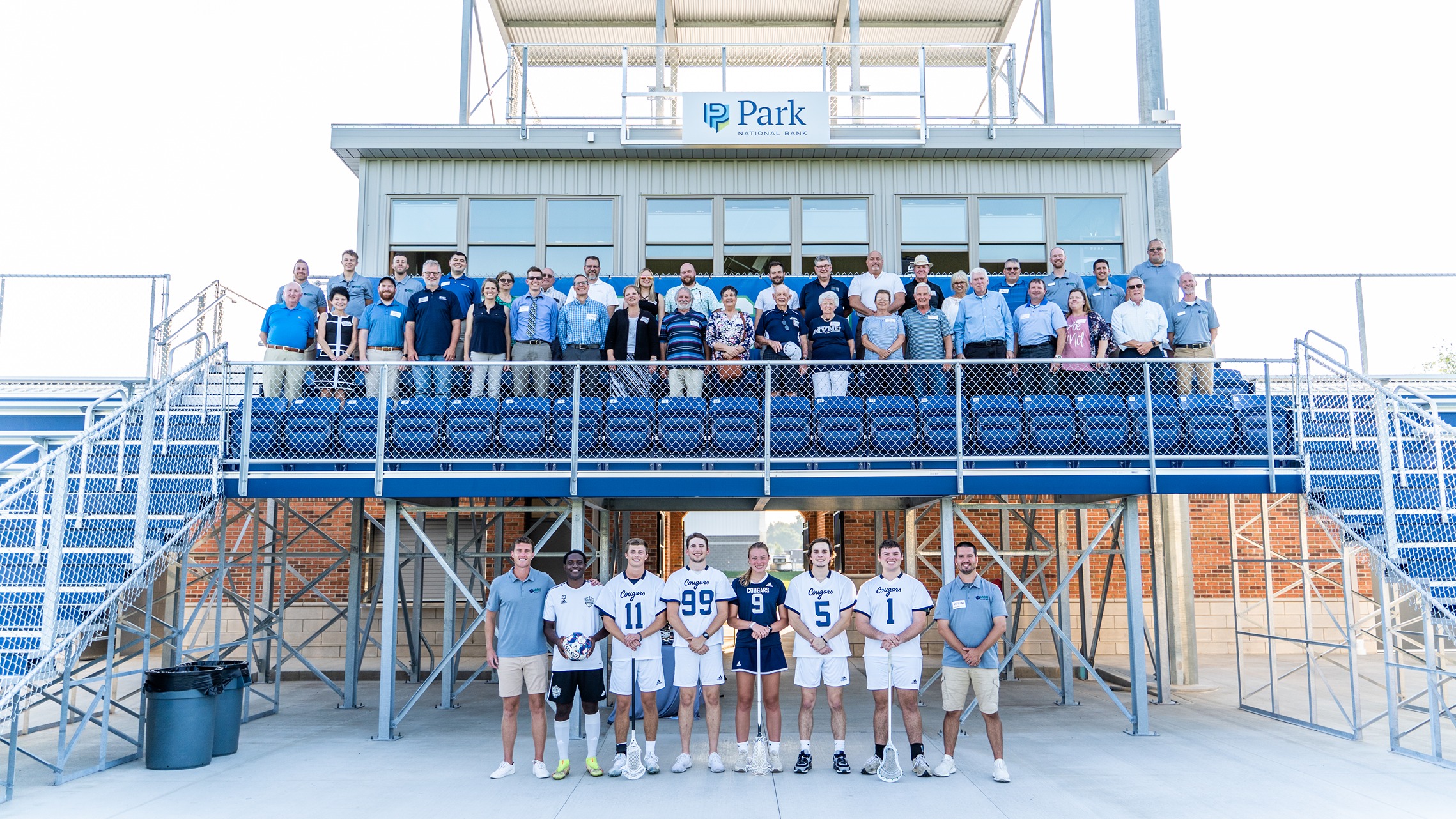 Donors get first look at CH4 Stadium
MOUNT VERNON, Ohio (July 22, 2022) — Mount Vernon Nazarene University gave a first look of the new CH4 Stadium to donors and partners on July 21.
The sneak peek was an opportunity to show off the new soccer and lacrosse facility, personally thank those whose contributions made the facility possible, and celebrate the completion of the Education Gateway Project.
MVNU President Dr. Henry W. Spaulding II, shared the story of first learning about lacrosse at an alumni event from four young men who reflected if MVNU had a lacrosse program, they would attend.
"You know, I get a lot of suggestions, as you might imagine, so I tucked that away. But my wife did not. She left there saying, 'We're going to get a lacrosse team.' She didn't even know what lacrosse was and she didn't care. She just wanted those potential students. We didn't get those students, but we got a few others," said Spaulding. "You have helped us to build an excellent lacrosse field. We've gone from the worst lacrosse field in the whole athletic conference to the best."
Men's lacrosse started at MVNU in 2018, and it didn't take long to realize the grass soccer field was insufficient for the demands of the sport. What started as a conversation on the necessity for a turf field turned into a community collaboration to develop the Education Gateway Project with MVNU, Mount Vernon City Schools, and the City of Mount Vernon. The completion of CH4 Stadium is the final piece of the project.
"We are finally at this place. It is completed; the building is here, and we are ready to officially open it. We know we are here because of all of you," said James Smith, Vice President for University Relations. "We hope you understand your investment here is an investment in MVNU, but it is also an investment in our community. Thank you for being part of the MVNU family, and the Knox County and Mount Vernon community family, and for investing in these students here today as well as the ones who aren't here."
Donors were given a tour of CH4 Stadium including new seating, locker rooms, restrooms, concessions, press box and patio seating. They also had the opportunity to speak with coaches and student-athletes about their respective sports and what CH4 Stadium will mean to their experience.
The project was supported financially with naming opportunities including stadium, field, press box, lights, ticketing and concessions, scoreboard, locker rooms and lockers, training room, party patio, seating and stands, benches, trees, brick pavers, and more.
The completion of the stadium follows Phase 1 of the project which built the turf field and included lighting, fencing, scoreboard, and the Knox County Foundation Community Fields.
The official Grand Opening will take place on Aug. 31. A fun-filled community event is planned to include men's and women's soccer, ribbon cutting and other activities. Men's game begins at 4 p.m., followed by the ribbon cutting at 6 p.m., and women's game at 7 p.m.
###