MVNU alumni invited to Homecoming 2022
MOUNT VERNON, Ohio (Sept. 30, 2022) — Mount Vernon Nazarene University will welcome alumni home for Homecoming 2022 on Nov. 11-12. The weekend will reunite classmates, faculty, staff, and friends. "Homecoming weekend is one of my favorite times of the year because campus comes alive with alumni and friends reconnecting, sharing stories, and engaging our…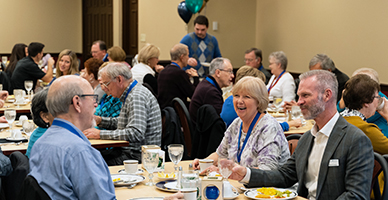 MOUNT VERNON, Ohio (Sept. 30, 2022) — Mount Vernon Nazarene University will welcome alumni home for Homecoming 2022 on Nov. 11-12. The weekend will reunite classmates, faculty, staff, and friends.
"Homecoming weekend is one of my favorite times of the year because campus comes alive with alumni and friends reconnecting, sharing stories, and engaging our students," said James Smith, Vice President for University Relations. "My hope is that we can establish a culture where alumni of all ages return annually to attend chapel, watch a game, take in a concert or play, and share a meal with friends. This year we added a few new exciting elements to help our alumni reconnect with each other and some of the faculty and staff they adored from their time here."
This year's schedule includes the return of the Alumni Celebration on Friday, Nov. 11, and new additions to celebrate the people, places and activities that formed their time at MVNU. We will be offering shuttled campus tours on Saturday afternoon to explore our downtown location as well as our new CH4 Stadium. Registration is open for Donuts with Dr. Spaulding where guests will hear a campus update, share a morning devotional, and network with other alumni. You will also want to join us as we celebrate the influence and legacy of Jim Singletary. Science and Engineering alumni are invited to breakfast for an opportunity to learn about current projects from our students.
The President's Prayer Breakfast will kick-off the weekend Nov. 11 at 8 a.m. in Foster Hall. Dr. Spaulding invites the public and the MVNU Community to come together to offer prayer for the university.
Homecoming Chapel on Nov. 11, at 10:20 a.m., will feature alumni speakers who are working and serving around the world. This year, the Class of 1972 will be recognized as the Golden Grads for celebrating its 50th anniversary. The class will also be honored during a special lunch following Chapel.
Homecoming 2022 will offer a new opportunity for Class Reunions as they will be hosted at various times and locations throughout the weekend. Reunions are being planned for the classes of 1972, 1977, 1982, 1987, 1992, 1997, 2002, 2007, 2012, and 2017.
Additional Homecoming highlights include:
Friday, Nov. 11
•Boesger Business Symposium — 3:30 p.m., Thorne Performance Hall
•MVNU Women's Basketball Game — 5 p.m., Ariel Arena
•Schnormeier Gallery Artist Exhibit — 5 p.m., Buchwald Center
•Celebrating the Jim Singletary Legacy, 6 p.m., President's Dining Room
•MVNU Men's Basketball Game versus Olivet Nazarene University — 7:30 p.m., Ariel Arena
Saturday, Nov. 12
•Class Reunions — various locations and times
•Science and Engineering Alumni Breakfast, 8 a.m., Moore Center 203
•Donuts with Dr. Spaulding, 9:30-10 a.m., Prince Student Union
•3-on-3 Basketball Tournament — 10 a.m., Prince Student Union
•Affinity Reunions, 11:30 a.m. to 1 pm., various locations
•Music Department Concert — 1-2 p.m., R. R. Hodges Chapel Auditorium
•MVNU Tours — 2-4 p.m., starting at R.R. Hodges Chapel Auditorium
•MVNU Men's Basketball versus Penn State Allegheny — 3 p.m., Ariel Arena
•MVNU Fall Play, "The Adventures of Sherlock Holmes" — 7:30 p.m., Thorne Performance Hall
For more information, or to register for events, visit homecoming.mvnu.edu. Please register for events by Nov. 5.
###