MVNU announces Intel-approved engineering partnerships
As Intel officially breaks ground on new fabrication facilities in Central Ohio, Mount Vernon Nazarene University announces two partnerships that will prepare faculty to teach new skills and expose students to real-life experiences in semiconductor and semiconductor-related manufacturing.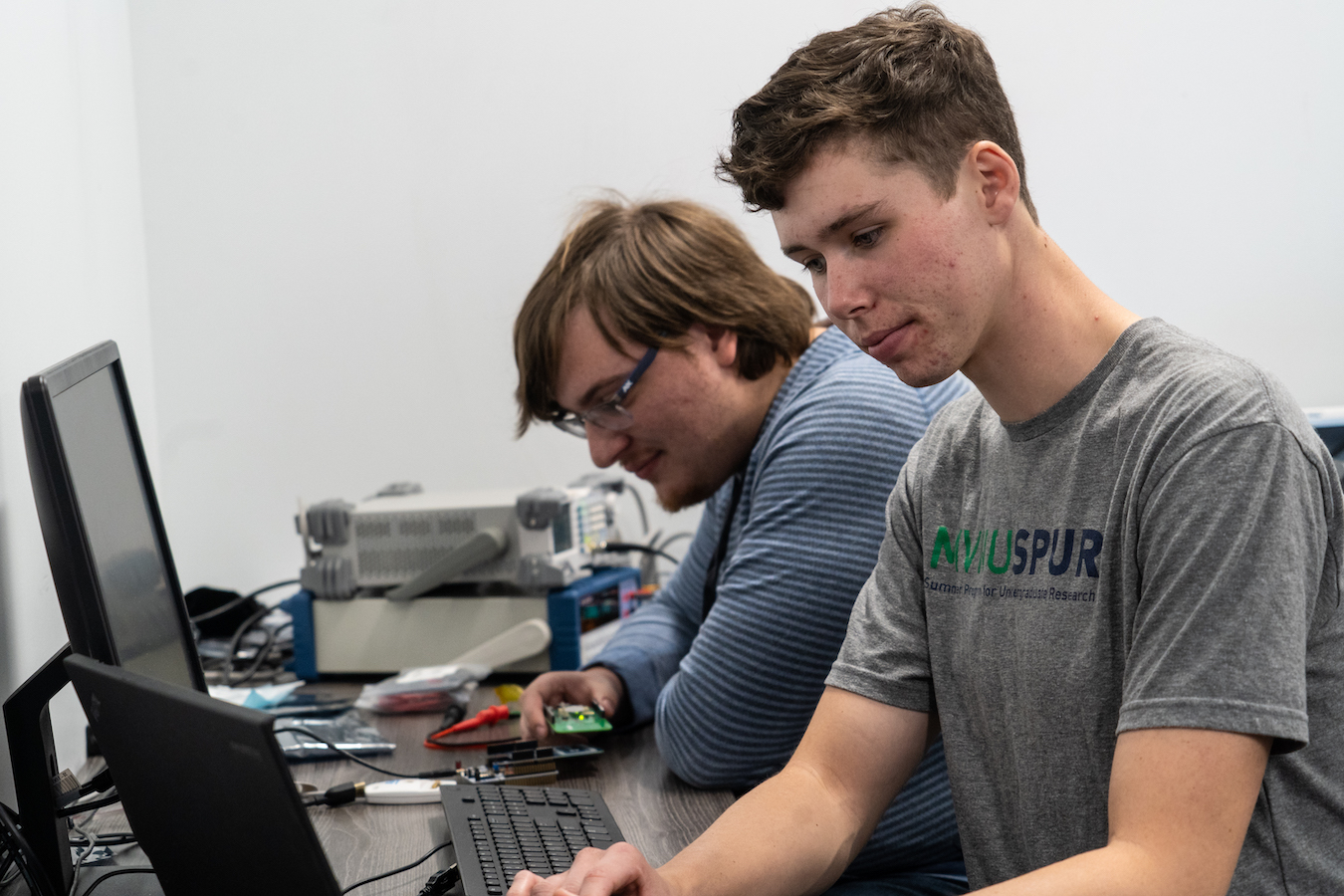 MVNU announces Intel-approved engineering partnerships
MOUNT VERNON, Ohio (Sept. 9, 2022) —As Intel officially breaks ground on new fabrication facilities in Central Ohio, Mount Vernon Nazarene University announces two partnerships that will prepare faculty to teach new skills and expose students to real-life experiences in semiconductor and semiconductor-related manufacturing.
"MVNU is excited that Intel has come to nearby Licking County," said Dr. LeeAnn Couts, Dean of the School of Natural and Social Sciences. "Our strong ABET-accredited engineering program within minutes of the new facility is well-positioned to meet the current and future needs of Intel. Through two newly established partnerships supported by Intel, MVNU engineering students will get experience in areas related to semiconductor fabrication."
In collaboration with Kent State University, MVNU students will receive hands-on technical training in semiconductor technology and cleanroom protocols. These learning opportunities will be accomplished through intensive summer institutes, hybrid immersive experiences, and virtual reality simulations.
"This will take the form of short courses and experiential microcredential workshops to complement our degree programs," said Dr. Yuan Meng, Assistant Professor of Electrical and Computer Engineering. "Kent State University has cleanroom facilities, and we are experts in undergraduate teaching and catering to the needs of students with a variety of backgrounds. We will join forces to develop multi-level undergraduate microcredentials geared towards undergraduates and those who have earned a technical associate degree, and an introductory level summer immersion and graduate bridge program. MVNU's engineering students will be among the first to benefit from the collaboration which will pave their way to future careers in high-tech companies like Intel."
The innovative elements of the partnership will be integrated into the engineering curriculum through a variety of applications including shifting some courses online, taking advantage of hybrid formats, and the benefits of the multiple campus locations to best fit the needs of learners.
MVNU engineering students will also receive extensive hands-on training in semiconductor manufacturing-related technology and coursework through the Ohio-southwest Alliance on Semiconductors and Integrated Scalable-Manufacturing (OASiS), which includes institutions such as the University of Cincinnati, Wright State University, University of Dayton, and Miami University. The partnerships with OASiS will be similar to KSU in the aspects of curriculum development, laboratory resource sharing, and student experiential opportunities. However, OASiS will also put focus on preparing university faculty to teach the new cutting-edge skills.
"OASiS will also provide faculty training to ensure our faculty have skills needed to teach students critical new technology in semiconductors," said Dr. Meng. "MVNU will be part of the Faculty Retreat for Semiconductor Education, which will be comprised of semi-annual workshops, an annual conference, and year-round access to online classes. All the faculty training will eventually benefit our students."
Both the KSU-led and OASiS programs are approved and supported through Intel's Semiconductor Education and Research Program for Ohio. The company established and funded the program to promote real-world experience and innovation in semiconductor manufacturing.
As Intel's investment in Central Ohio dominates economic conversations, it also intensifies the interest in, and benefits of, an engineering degree.
"The word 'engineer' means 'to create,' and thus the engineering profession allows creativity and innovation to plan, design and build products, structures, facilities, systems, and processes beneficial to humankind," said Dr. Jose Oommen, Associate Professor of Electrical and Computer Engineering and Engineering Department Chair. "For someone who loves problem solving and wants to make a difference in the world, engineering is definitely one of the top majors to select. Furthermore, the profession is very lucrative. According to 2021 data by the Bureau of Labor Statistics, the median salary for engineers is close to six figures and over."
Intel has committed to hiring 3,000 employees by 2025 including 2,100 technicians, 750 engineers, and 150 in administration/management roles.
As Intel becomes established in the area, MVNU is well suited to provide additional education to any of the associate-degree technicians that Intel will employ who may want to advance in the field.
"We have had students who transferred into our program from a two-year college with an associate degree, and they were able to obtain the bachelor's degree from MVNU in a relatively shorter time," said Oommen. "We have also created an engineering pathway for those who have obtained their associate degree from Central Ohio Technical College and similar colleges who may wish to pursue further education as they are employed by Intel."
Oommen also stated education pathways for College Credit Plus students have been established to assist those high school students who take compatible courses that would transfer to MVNU and give them a considerable advantage in being able to finish their degree faster.
No matter what direction an engineering graduate pursues in their career, the skills and experience acquired through the new Intel-related partnerships will set MVNU graduates apart from other candidates.
"The proposed programs indeed focus on semiconductor manufacturing, specifically. However, instead of limiting engineering students to this field, they are intended to provide more vocational opportunities for them, which were not possible before the Intel project. The Engineering Department at MVNU provides a wide range of engineering concentrations including mechanical, electrical and computer engineering. Our graduates are successfully hired in all kinds of manufacturing fields," said Meng.
"We are thrilled that we can continue to provide our students a person-centered, Christian, liberal arts engineering education at MVNU that now, through our partnerships with larger universities, also provides them with high-level technical experiences that will prepare them for a successful career at Intel," said Couts.
To learn more about MVNU's engineering programs, visit mvnu.edu/engineering .
For information on careers at Intel, visit jobs.intel.com .
###