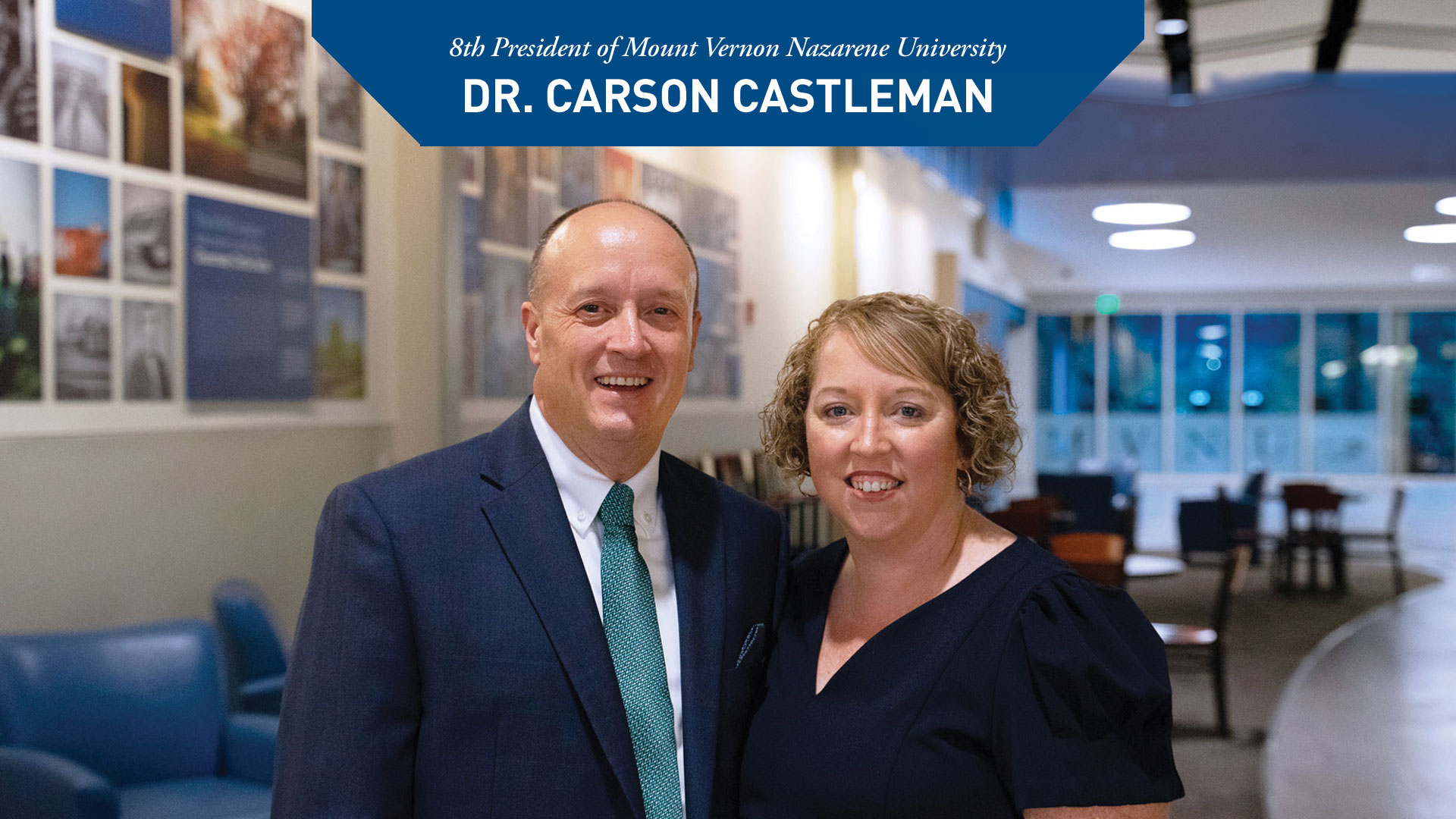 Dr. Carson Castleman elected 8th president of Mount Vernon Nazarene University
MOUNT VERNON, Ohio (August 11, 2023) — Mount Vernon Nazarene University Board of Trustees is proud to announce the election of Dr. Carson Castleman as the University's 8th president. He will begin his tenure on Oct. 1, 2023.
His remarkable career in Christian higher education spans over 26 years and includes expertise with both traditional and non-traditional student enrollment and engagement. Currently serving as the Vice President of Student Experience and External Relations at Indiana Wesleyan University, Dr. Carson Castleman oversees the student experience of over 8,500 students across the United States and around the world. He has been instrumental in developing innovative partnerships that have resulted in growing the 2022-23 enrollment by more than 1,700 students.
"The Board is pleased to welcome Dr. Carson Castleman as the next president of Mount Vernon Nazarene University. Through a very robust national search process, we have found a collaborative leader in Dr. Carson Castleman. He has the right education, experience, interest, drive, and passion to lead MVNU into a bright future," said Rev. Edward Phillips, J.D., MVNU Board of Trustees, Chair. "Dr. Carson Castleman's enthusiasm and welcoming style is infectious, and he has built a distinguished career with many accomplishments that have made him the unanimous choice of the Board of Trustees. We believe Dr. Carson Castleman is the right leader to move MVNU to new heights as the premier Christian university in the region."
Dr. Carson Castleman has been a part of the MVNU Community his entire life. He grew up within the nurturing community of Covington Central Church of the Nazarene on the Eastern Kentucky District. This unique connection makes him the first president to emerge from our very own region. He is a fourth generation Nazarene and has been a steadfast and dedicated member of the Church of the Nazarene his entire life. He is currently a member of Generations Church of the Nazarene, which he helped plant over 15 years ago. His contribution to the church includes service as a local church board member, six years on the General Board for the Church of the Nazarene, and six years on the Eastern Kentucky District Advisory Board.
He began his higher education career in the MVNU Admissions Office as an admissions counselor and later as Associate Director of Admissions. He then was hired as the Director of University Advancement. After serving as the Chief Enrollment Officer at Nazarene Theological Seminary, he moved to Indiana Wesleyan University where he has spent the last 20 years in progressive roles as a faculty member, dean, associate vice president and vice president.
Dr. Carson Castleman's impressive track record in Christian higher education, coupled with his deep commitment to Christian values, makes him an ideal choice to lead MVNU as it continues its mission to educate the whole person and cultivate Christ-likeness for lifelong learning and service.
"We are unapologetically a Christian higher education institution and an extension of the Church of the Nazarene, offering hope in a dying world where there are many hindrances to the harmonious exchange of ideas and the clashing of values," said Phillips. "It was imperative we find the right leader to build on the success of the past and move MVNU into an even brighter future."
"I am humbled and honored for this opportunity to serve my church and MVNU, a place Angela and I love so deeply," said Dr. Carson Castleman. "Our lives started here in the 1990s, and our first child was born here, so we truly feel like we are coming home. Words cannot describe our gratitude and excitement to serve the MVNU community in this capacity."
Dr. Carson Castleman graduated from Northern Kentucky University with a Bachelor of Arts in Communication/English. He earned a Master of Science in Human Resource Management from Indiana Wesleyan University and a Master of Arts in Religion and Counseling from Liberty University. He completed his Doctor of Philosophy in Educational Leadership and Administration from Capella University.
Dr. Carson Castleman will be joined by his accomplished wife, Dr. Angela Castleman, who has served 24 years in the field of education, in various roles including classroom teacher, building administrator, and university professor. She is a 2000 alumna of MVNU. She is currently serving her fifth year over three terms on the MVNU Board of Trustees, where she has participated on the strategic planning, academic affairs, and institutional advancement committees. Dr. Angela Castleman recused herself from the presidential search process. Following the election she submitted her resignation from the board, effective immediately. She is eager to join her husband in the work and ministry of MVNU.
They have two children, Claire, 20, and Carter, 15. They currently reside in Florence, Kentucky.
SEARCH FOR NEXT PRESIDENT
The Presidential Search Committee, comprised of select members of the Board of Trustees and faculty and staff representatives, voted early in the process to hire a search firm, FaithSearch Partners, with experience in generating and vetting a strong pool of qualified candidates.
The search firm met with campus and community stakeholders, and surveyed faculty and staff to develop a thorough profile detailing what the ideal candidate should embody in their faith, education, experience, skill set, and other characteristics.
The nationwide search resulted in incredible interest in the position with final candidates interviewed by the Presidential Search Committee, who then made their recommendation to the Board of Trustees.
"I am delighted with the election of Dr. Carson Castleman to be the next president of MVNU. He is a proven leader and innovator in higher education and a committed churchman. He also brings a deep love for the university, the place he began his career. He is coming home, and we welcome him," said Dr. David Wilson Sr., MVNU Transitional Leader. "We give thanks to God for His leadership in the search process. Many people have spent countless hours, fasting and praying that God would lead us – and He has!
Dr. Carson Castleman succeeds Dr. Henry W. Spaulding II, who served at the University over the past 14 years, most recently as the President from 2012 until his retirement earlier this year.
Drs. Carson and Angela Castleman will be introduced to faculty, staff, and invited guests this afternoon. Official plans for the inauguration will be announced when they become available.
Mount Vernon Nazarene University is a private, four-year, intentionally Christian teaching university for traditional age students, graduate students, and working adults. With a 327-acre main campus in Mount Vernon, Ohio, MVNU emphasizes academic excellence, spiritual growth, and service to community and church. MVNU offers an affordable education both in-seat and online to nearly 2,000 students from 25 states and 11 foreign countries.
###