Reunions, accolades, prayer shared during MVNU Homecoming
Alumni, faculty, staff, and donors were celebrated during Mount Vernon Nazarene University's Homecoming, Nov. 11-12.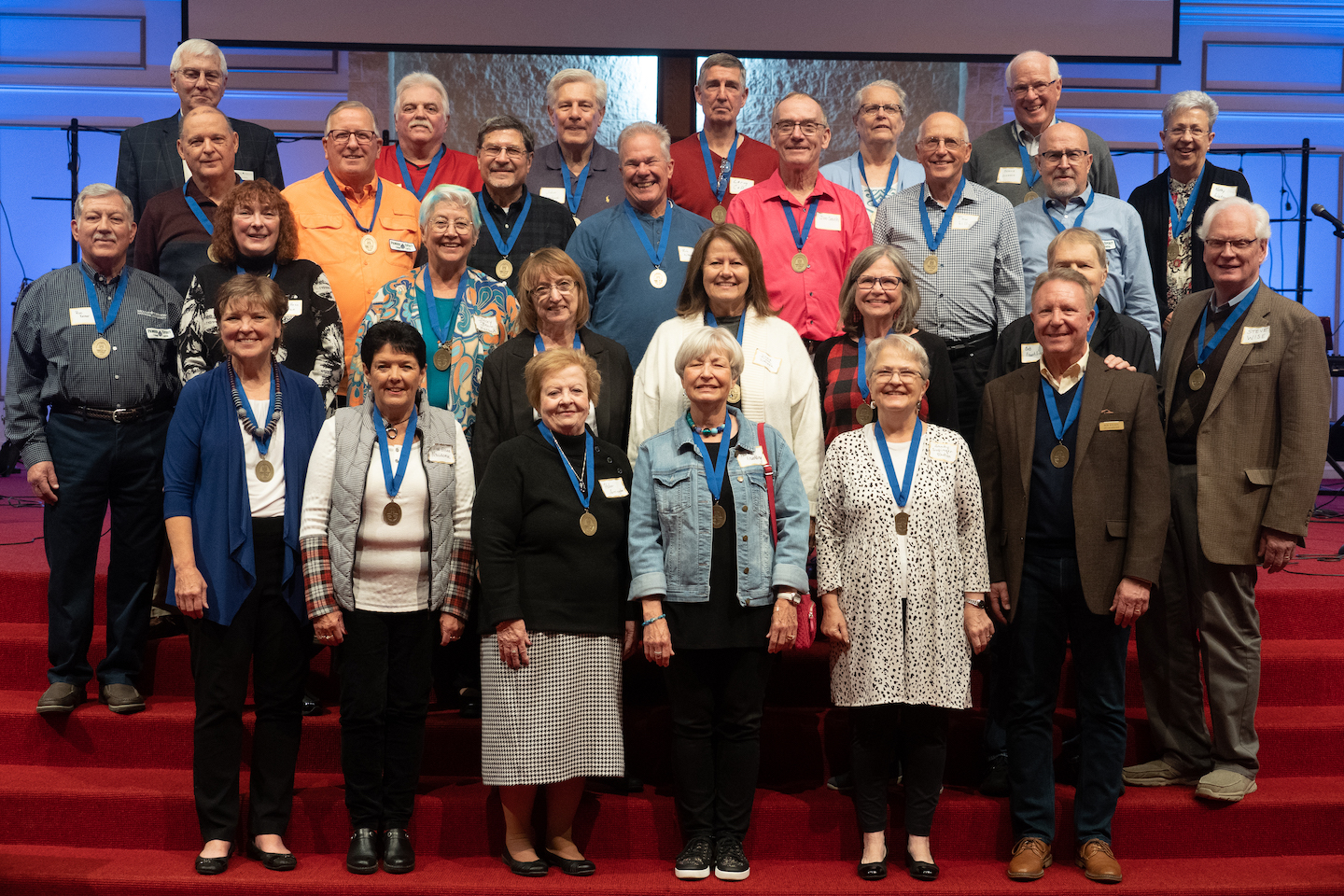 Reunions, accolades, prayer shared during MVNU Homecoming
MOUNT VERNON, Ohio (November 18, 2022) — Alumni, faculty, staff, and donors were celebrated during Mount Vernon Nazarene University's Homecoming, Nov. 11-12.
DISTINGUISHED AND HONORARY ALUMNI AWARDS
Dr. Bob Tocheff ('72), Mount Vernon Nazarene University professor of music since 1981, was awarded the Distinguished Alumni Service Award during Homecoming Chapel.
The Alumni Council and the Greater Alumni Association present the award to recognize alumni who have shown and modeled the values of the University in their lives and careers.
"Dr. Bob Tocheff is beloved to both alumni and current students. He was part of the Golden Grads Class of 1972. He has been with MVNU as a professor for over 40 years," said James Smith ('99), Vice President for University Relations. "He has served as a department chair, instructor of Collegians Chorale and Treble Singers, and he started directing the holiday tradition of the Messiah in 1991."
Diana Tocheff was bestowed the title of Honorary Alumni, which recognizes a member of faculty, staff or university friend, who is influential in the life of the university and demonstrated continuing interest in MVNU.
"Diana's heart is pure gold. Her warmth is directed to all students, alumni and employees to make them feel special and heard. You can find Diana at events capturing special moments with her camera or beautifying the chapel at Christmas time for all to enjoy."
For more on the Tocheffs, click here .
JAMES SINGLETARY DIVERSITY AWARD
Jim Singletary was presented the first annual James Singletary Diversity Award for his groundbreaking work in diversity and belonging during his 16 years on the MVNU campus.
"He directed the Office of Intercultural Life toward a new vision of diversity, equality, and belonging, and creating initiatives that will last beyond him. This award will honor those who reflect his commitment to hospitality; to celebrating all genders and nationalities, people, and cultures; engaging AIM students, women, students with accessibilities, and all others, and much more. Jim's forte was developing collaborative, intentional relationships with faculty, staff and students of MVNU," said Tavaris Taylor, Assistant Vice President for Intercultural Engagement and Learning.
For more on Singletary, click here .
PRESIDENT'S PRAYER BREAKFAST
President Henry W. Spaulding II, Ph.D., and MVNU, were the center of the President's Prayer Breakfast.
Dr. J.K. Warrick, Pastor of Parkview Church of the Nazarene, provided the 3 Ps to follow when praying for MVNU even after Homecoming.
"This is a hallowed place, it's been consecrated, dedicated to God for the purpose of educating future generations, not simply to make a living, but to make a life and to serve the Kingdom," Warrick said. "It's ok to pray: 'Lord bless the campus of Mount Vernon Nazarene University.'"
Warrick encouraged those in attendance to: Pray for this place , pray for the people , and pray for purpose .
"We didn't come here today to pray for just a little while. When you go home, remember how to pray for Mount Vernon Nazarene University and for our leaders, for our students, and for this place. Give thanks for this place and the leaders who made it for what it is, and for all of you graduates that made this place special for the students who are now here."
Specific prayer was led by the following: Tyler Maddux, students; Tom Lilly, alumni; Dr. Pheba George, faculty; and Taiylor Romine, staff.
GOLDEN GRADS CELEBRATED
The Class of 1972 was recognized during Homecoming Chapel in celebration of the 50th anniversary of their graduation from Mount Vernon Nazarene College. Each member of the class was presented a Golden Grad medallion.
"The Lord has blessed this place. A lot of those blessings really have come from the bravery, the courage, the eagerness of a bunch of crazy pioneer students who gave this place a chance and made this place what it is," said Smith. "We would not be who we are today without you. You have laid the foundation; you literally walked the paths that we put concrete on years later. You ruined a lot of shoes, but we are grateful, we are appreciative for the work that you did and the ground you laid. So, we welcome you back."
MICROBIOLOGY LAB DEDICATION
The Elaine (Toler) Mahaffey Microbiology Lab, 12 Regents Hall, was officially dedicated with a ribbon cutting ceremony.
Elaine was a 1974 graduate who was active in the sciences, student government, Collegians Chorale, the tennis team, Living Proof (traveling music group) and she was a cheerleader. She transferred to Ohio University where she graduated in 1977 following a one-year residency for Medical Technology and would serve as a medical technologist/virologist for over four decades. She passed away Feb. 10, 2019, following a 7-year battle with cancer.
Dr. Geoffrey Fuller, biology professor, pointed out major improvements in the lab and explained why they are so important to the educational experience for faculty and students. Modifications include raised lab tables to provide more comfortable workspaces that also allow students and professors the ability to easily access and share equipment and data. Technology upgrades allow professors to work simultaneously with students to illustrate processes and techniques and the new air purification system will cycle in fresh air every six minutes.
For more about Elaine, and the dedication, click here.
ATHLETICS WALL OF FAME
Three athletes were inducted into the Athletics Wall of Fame.
Kenny Chaffin ('02) was an important part of the men's basketball team. He finished his career ranking in the top five all-time in points, rebounds, blocked shots and field goals made.
Justin Clarey ('04) was an integral part of the baseball team for four years and earned many accolades and honors including the American Mideast Conference South Division's Player of the Year in 2004.
Laura Kot ('07) Mangum was a member of the softball team and was named the American Mideast Conference South Division's Player of the Year in 2007.
Visit mvnucougars.com for more information on basketball games and Wall of Fame Inductees.
HOMECOMING COURT
Nominees for the Homecoming Court are selected by the student body for being Godly leaders in the school, having integrity and caring for others, showing a sense of responsibility and reliability, and high academic standing.
Genesis Mena-Cruz was crowned Queen with Zach Jenney as King during the court presentation and coronation.
The court included freshmen, Will Meyers and Erin King: sophomores, Evan Hodkinson and Rachel Wagner; juniors, Colton Sisler and Rebecca Bash; and seniors, Hunter Winey, Ryan Wolfe, Zoe Bricker and Emma Warkall.
For photos of Homecoming Events and Reunions, click here.
###