Over 540 Mount Vernon Nazarene University Students named to Spring 2023 Dean's List
MOUNT VERNON, Ohio — Mount Vernon Nazarene University presents over 540 students with the achievement of being named to the Dean's List for the Spring 2023 semester. Students receive this designation by earning a grade point average of 3.5 or above. Of the 546 students named this year, 197 students earned a 4.0 GPA, with…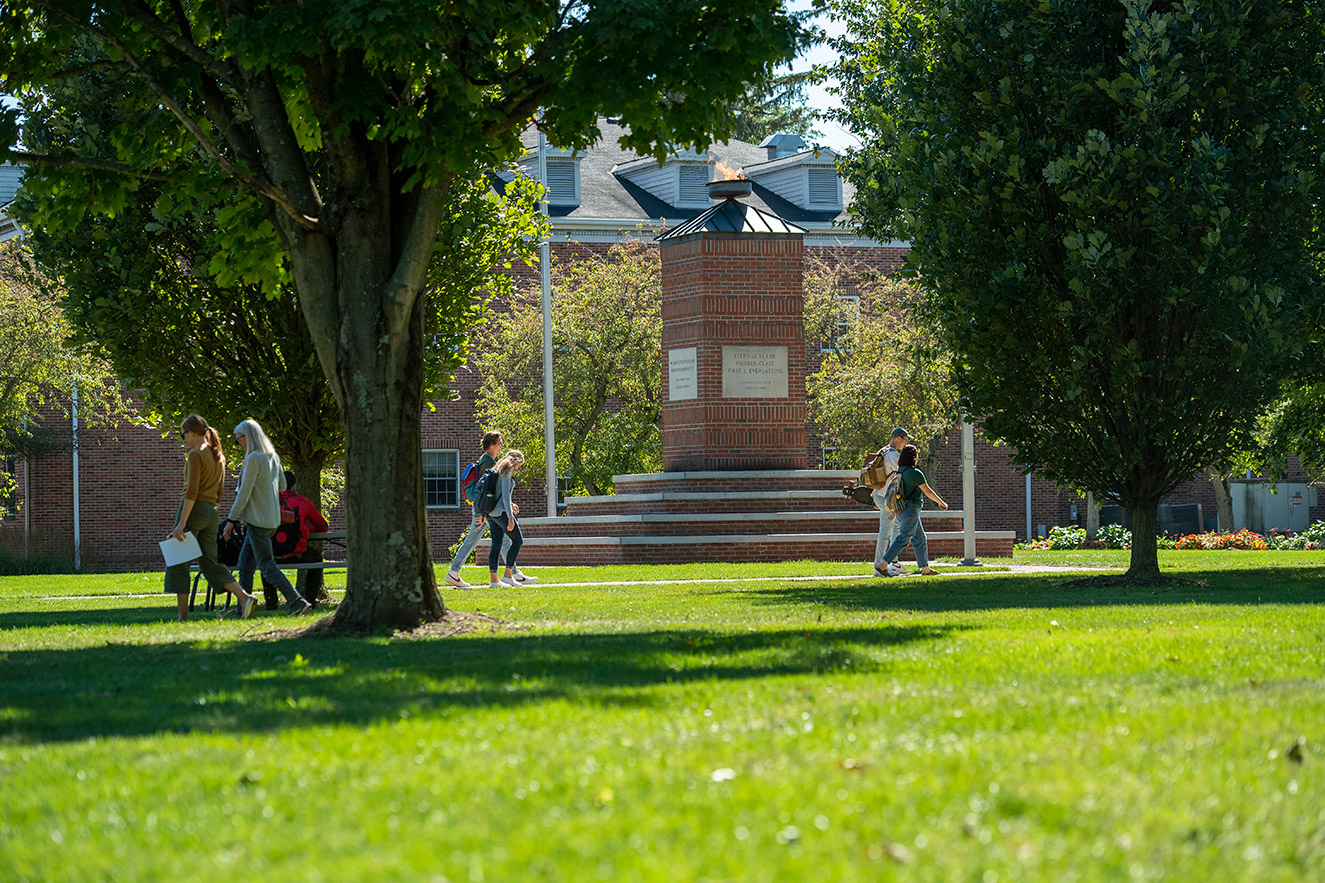 MOUNT VERNON, Ohio — Mount Vernon Nazarene University presents over 540 students with the achievement of being named to the Dean's List for the Spring 2023 semester.
Students receive this designation by earning a grade point average of 3.5 or above. Of the 546 students named this year, 197 students earned a 4.0 GPA, with 349 students earning a GPA between 3.5 and 3.9. The following are those that made the list:
ADAMS COUNTY
Peebles — Emma Mason
Winchester — Ethan Campbell
ALLEN COUNTY
Elida — Michael Crouse, Maggie Little and Ryan Vetters
Lima — Delaney Brinkman, Allison Durst and Joseph Hurst
ASHLAND COUNTY
Ashland — Jonathon Langdon, Emily Ludwig and Hannah Miller
Loudonville — Matthew Brightbill, Garett Fry and Jacob Gessner
Perrysville — Ethan Ross
ASHTABULA COUNTY
Jefferson — Ally Durkovic
AUGLAIZE COUNTY
Minster — Johnathon Nixon
Wapakoneta — Britney Robb
BUTLER COUNTY
Hamilton — Emma Harville, Rylee Harville and Colton Turner
Liberty Township — Katlyn Davis, Emma Reuss, Claire Vogelmann and Robert Vogelmann
Middletown — Brynne Davis, Morgan Harden and Genesis Mena-Cruz
Ross — Jeremiah Archer
Trenton — Loren Burton and Mickela Day
CAROLL COUNTY
Carrollton — Rebecca Stoneman
Sherrodsville — Erin King
CHAMPAIGN COUNTY
Woodstock — Bryce Bosworth
CLARK COUNTY
New Carlisle — Garret Gemmaka
South Vienna — Sara Augustus
Springfield — Seth Potts
CLERMONT COUNTY
Batavia — Abigail Roberts
Loveland — Samantha Weaver
CLINTON COUNTY
Blanchester — Abbey Faucett
Clarksville — Hailey Clayborn
New Vienna — Gracie Evanshine
COLUMBIANA COUNTY
East Liverpool — Morgan Delposen
Salem — Jessica Bock
COSHOCTON COUNTY
Coshocton — Kenzie Potter
Walhonding — Ashley Mast and Megan Peck
Warsaw — Macey Geog and Allison Prouty
CRAWFORD COUNTY
Bucyrus —Rosalyn Johnson, Melia Williamson and Nathan Wingert
Galion — Bailey Niedermier
New Washington — Rachael Brown
CUYAHOGA COUNTY
Bedford — Luke Mohnasky
Brecksville — Renee Bolon
Brook Park — Mikala Minerd
Cleveland — Edward Burcham
Parma — Zoe Schaum
DARKE COUNTY
Arcanum — Chloe Mae Peters
DEFIANCE COUNTY
Defiance — Connor Williams
DELAWARE COUNTY
Delaware — Cailey Bubis, Adison Chorey, Hope Clark, Evan Hobbs, Emma Klamanski, Kai Mays and Bryce Queary
Galena — Brooke Holloway and Ashleigh Westervelt
Lewis Center — Grace Chesser
Powell — Margaret Croop
Sunbury — Clay Brown, Chase Brown, John Grumney, Joshua Hageman, Abigail Larkin, Cameron Lozano and Evelyn Ranck
ERIE COUNTY
Castalia — Aubree Bailey and Logan Davis
Sandusky — Kimberly Comparette and Timothy Gray
FAIRFIELD COUNTY
Baltimore — Josiah Sidle and Anastacia Viau
Lancaster — Jesse Brunton, Kayley Brunton, Blaine Keener and Megan Thompson
Pickerington — Colin Maffett, Morgan Maffett and Cassidy Turner
Pleasantville — Sheridan Sullivan
Rushville — Jacqueline Miller
FRANKLIN COUNTY
Blacklick — Gabrielle Edwards and Kassandra Knecht
Canal Winchester — Micah Angel and Olivia Harris
Columbus — Brett Dillinger, Kiera Jones and Joseph Rose
Dublin — Julia Trotti
Gahanna — Jaxon Henthorn, Jenson Thompson, Mallery Thompson and Natalie Wade
Galloway — Milena Gerstein, Joseph Lopez and Taylor Nazeck
Grove City — Emily Burley, Olivia Castle, Sarah Cuckler, Allyson Schall and Colton Sisler
Hilliard — Rachel Argo, Natalie Argo, Addison Crace, Lydia Frankart, Will Meyers and Hong Sheng Wang
Lockbourne — Mallory Spangler
New Albany — Michael Hahn, Mayleea Hansen and Ellie Wolfe
Westerville — Hayden Moore
GALLIA COUNTY
Vinton — Haley Isaacs
GEAUGA COUNTY
Chardon — Ryleigh Robinson
GREENE COUNTY
Beavercreek — Chloe Hall
Bellbrook — Caitlin Erlandson
Cedarville — Trenton Koning
Fairborn — Teresa Clifton
Jamestown — Kayli Vipperman
GUERNSEY COUNTY
Byesville — Logan Fox
HARDIN COUNTY
Kenton — Aubrey Thrush
Larue — Abigail Penhorwood
Mount Victory — Rebecca Bash and Sarah Bash
Ridgeway — Isaiah Savage
HIGHLAND COUNTY
Greenfield — Andrew Batson
HOCKING COUNTY
Logan — Madison Turner
HOLMES COUNTY
Baltic — Kallie Regula
Big Prairie — Sarah Friedrich and Karley Halloran
Glenmont — Alexander Adams
Killbuck — Callie Cline
Lakeville — Hannah Goines and Katie Sprang
Millersburg — Brandon Barkman, Rachel Byler, Casey Kalman, Alyssa Lepard, Ryan O'Donnell, Zachary Wigton and Tony Yoder
HURON COUNTY
Norwalk — Brandon Ehrenberg
JACKSON COUNTY
Jackson — Callie Henry and Rayna Tackett
JEFFERSON COUNTY
Steubenville — Benjamin Reed
KNOX COUNTY
Centerburg — Hannah Crouse, Sarah Dickhof, Alexander Hayden, Kevin Kadrich, Kelby Perry, Taylor Scowden and Sidney Van Fossen
Danville — Alyssa Marshall, Jackson Mentzer, Erica Mullet, Camie Newbold and Rachel Wilson
Fredericktown — Alayna Aurand, Olivia Dugeon, Emily Feeney, Emily Grimm, Lily Huffstutler, Sydney Sansom, Kelly Sapp, Macy Thorne and Skyler Wiggand
Gambier — Zachary Ballenger
Howard — Sydney Biggs, Aidric Bocock, Starlena D'Agostino, Robyn Downs, Ellie Hagy, Laura Keith, Joshua Keith, Judah Keith, Bethany McClain, Ethan Rine, Treyton Stone, Gage Steinmetz, Joci Totten and Joanna Vanasse
Mount Vernon — Gloriana Adams, Nolan Belcher, Hunter Billman, Victoria Cook, Samantha Cook, Jaimie Davis, Catherine Dugan, Bryce Farrell, Emma Gahagan, Morgan Gibson, Abigail Harlow, Noah Humphrey, Hanna Humphrey, Cailyn Kennedy, Jacob Lafevor, Gina Lawhon, Jack MacKenzie, Tyler Machie, Macee Marcum, Cassidy Marquis, Kiera Mayer, Caleb McNichols, Emma McVay, Anna Neipling, Mollie Pentz, Micah Rex, Samuel Riffle, Brooklynn Rockwell, Caio Sabbadin, Spencer Smith, Brielle Strong, Lillian Stuller, Parker Suggs, Alyxandra Syrek, Hanah Valentine, Kristy Vargo, Annikah White, Karlee Whitesell, Chelsey Wiles, Brycen Wood, Daniel Daly
LAKE COUNTY
Mentor — Kaitlyn Bals and Samuel Hershey
Painesville — Kaden Tinner
Willowick — Melanie Wayts
Wycliffe — Henry Shobert
LAWRENCE COUNTY
Ironton — Jacob Sloan
LICKING COUNTY
Alexandria — Noah Tucker
Etna — Emma Strausbaugh
Granville — Lydia Bolden, Tyler Dickerson, Andrew Pfau and Brody Swisher
Heath — Lucas Harbaugh
Hebron — Adrianna Huff
Johnstown — Rachael Hobbs, MacKenzie Holder, Krista Jenkins, Zachary Jenneu, Alexander Jenney, Michaela Leonard, Courtney McCoy, Noami Painter and McKenzie Thomas
Newark — Joshua Dillon, Dylan Elliot, Bruce Fender, Cassidy Fouty, Sarah Hill, Riley Jarrett, Emma Keyse, Kelly McDonough, Morgan Mills, Jean Moore, Sarah Sanders, Ellie Tritt and Jonathan Winningham
Pataskala — Sommer Branham, Hannah Edmonds and Chayse Topy
St Louisville — Kristen Lewis
Utica — Avan Dunn, Matthew Holtz, Brookelyn Holtz, Rebekah Kalas, Hunter Keller and Brittany Miller
LOGAN COUNTY
Lakeview — Reid Vance
West Liberty — Lance Baldwin and Andrew Hardwick
LUCAS COUNTY
Maumee — Maxwell Donawa
Sylvania — Scott Warton
MADISON COUNTY
Fairfield Township — Lilyann Ward
London — Logan Grantz
Mount Sterling — Madeline Kitchen, Tyler Shipley and Marcus Whaley
Plain City — Erica Beachy
MAHONING COUNTY
Poland — Alexis Eaton, Paige Ogden and Abigail Snyder
MARION COUNTY
Caledonia — Hanna McClenathan
Marion — Riley brown, Samantha Edler, Malia Horton, Hannah Logan and Benjamin Mayse
MEDINA COUNTY
Seville — Hannah Keiper
Wadsworth — Avery Cornelius and Abigail Hershberger
MEIGS COUNTY
Racine — Matthew Jackson
MERCER COUNTY
Celina — Grant Wagner
MIAMI COUNTY
Ludlow Falls — Hannah Fugate
Troy — Hannah Schaffnit
MONTGOMERY COUNTY
Dayton — Kara Jenkins
Englewood — Raelyn Barrett
Huber Heights — Kayla Nelson
Kettering — Aline Butoto
MORROW COUNTY
Cardington — Emily Driver, Allee Dutt, Elizabeth Long and Bryce Rinehart
Marengo — Paige Hicks, Bailey Remmert and Isabella Yoder
Mount Gilead — Julia Kanagy, Gavin Mattix, Lauryn Smith, Micah Tuggle and Leah White
MUSKINGUM COUNTY
Dresden — Molly Shupert
Frazeysburg — Ashley Goehring
Norwich — Bryer Shipley
Zanesville — Natasha Goins
NOBLE COUNTY
Caldwell — Chloe McAuley
OTTAWA COUNTY
Elmore — Claire Rothert
PERRY COUNTY
Crooksville — Gracelyn Frame
New Straitsville — Megan Danison
Thornville — Brooke Hurst
PICKAWAY COUNTY
Circleville — Aidan Hamilton
Orient — David Dailey and Megan Jenngins
PORTAGE COUNTY
Atwater — Emma More
Mantua — Rebecca Moon
Mogadore — Destiny Fullerton
Streetsboro — Madeline Critzer
RICHLAND COUNTY
Belville — Emily Conrad, Anna Dudgeon, Sarah Keininger, Katelyn Knoblock, Annika Labaki, Olivia Markley, Reagan Marshall and Halen Sansom
Butler — Caleb Dettmer, Addeline Haring, Pierson Schulling and Sadie Woodward-Page
Lexington — Jared Mount and Claire Vallance
Mansfield — Ethan Byrom, Travis Cadle, Madison Clapp, Kylie Diehl, Jocelyn Dombirer, Hannah Hershner, Andrew Holmes, Pheobe Hupp, Addison Karger, Sara Marhefka, Noelle Morris, Zayanna Ntia, Zoe Ntia, Clay Reynolds and Julia Wilson
Ontario — Teyron Cantey
Shelby — Raegan Gumey, Mason Hendrickson, Suzie Huston, Allen Jacobson, Jackson Moody and Samuel Swanger
ROSS COUNTY
Chillicothe — Emily Hannah, Emily Howie, Cruz McFadden and Avery Miller
SANDUSKY COUNTY
Fremont — Richard Geyer
SCIOTO COUNTY
South Webster — Kassidy Maloney
Wheelersburg — Elizabeth Heimbach
STARK COUNTY
Alliance — Julianna Gumm
Canton — Brooklyn Krum, Christian Shaklee and Ashley Stumperth
Hartville — Marissa Kunes and Faith West
Louisville — Christian Graber and Kaycee Ollis
Massillon — Nadia Hoffman, Rylee Pireu and Meghan Sommers
North Canton — Maggie Coe, Ellyn Coe, Angela Roshak and Emily Walker
SUMMIT COUNTY
Akron — Maria Dobson
Stow — Alexis Gray and Tressa Hindenlang
TRUMBULL COUNTY
Niles — Amanda Agler
TUSCARAWAS COUNTY
Bolivar — Ashely Merrick, Kylie Rohr and Samantha Shaklee
Dover — Garrett Bradley, Marhin Chismar, Logan Kazelman and Kade Ruegsegger
Dundee — Lindsey Mast and Kody Miller
Mineral City — Austin Kohler
New Philadelphia — Kyler Finnicum, Ezekiel VanArsdalen, Abigail Almodovar and Gabrielle Anzalone
Sugarcreek — Brianna Rider, Bethany Rider and Emma Warkall
UNION COUNTY
Irwin — Alissa Miller
Marysville — Benjamin Alexander, Macoy Green, Spencer Mills, Leah Potter, Madison Powers, Elizabeth Sharrock, Diego Shaw, Megan Vollrath and Ryan Walters
Milford Center — April Ward
Richwood — Sarah Chadwick and Savannah Sparks
VAN WERT COUNTY
Convoy — Cameron Ceams
WARREN COUNTY
Lebanon — Dallas Stone
Maineville — Alexis Hoffman
Mason — Nina Davis
Morrow — Lucy Beaulieu and Abbey Niemesh
Oregonia — Lindsey Amberger
Springboro — Nathan McCloud
Waynesville — Grant Ford
WAYNE COUNTY
Apple Creek — Maggie Coblentz and Mallory Shoup
Burbank — Macyn Siegenthaler
Creston — Jacob Hanzie
Dalton — Evan Hodkinson, Ty Hutson and Isaac Ramseyer
Doylestown — Morgan Ankenman
Marshallville — Elizabeth Hartzler
Orrville — Megan Tschiegg
Rittman — Erica Gasser
Shreve — Clayton Zimmerly
West Salem — Kaitlyn Clifford
Wooster — Emily Allison, Ella Buzzard, Audrey Cochran, Matthew Falkenberg, Mackenzie Hancock, Melissa Herrera, Sydney Sherrieb and Molly Snyder
WYANDOT COUNTY
Carey — Bailey Plott
OUTSIDE OHIO
CALIFORNIA
Cerritos — Amber Hancock
San Diego — Luke Modesto
FLORIDA
Bradenton — Rachel Hambrick
New Smyrna Beach — Keaton Mossman
Palmetto — Tiago DeJesus and Alexandre DeJesus
Parrish — Brady Misencik
Stuart — Jerhett Morehouse
GEORGIA
Acworth — Carrie Davis
HAWAII
Mililani — Cole Custodio and Jaelyn Tang
ILLINOIS
Bartlett — Emily Ryan
Casey — Alyssa Hancock
Elgin — Daniel Skrzypchak
Milford — Alivia Schmink and Caitlyn Stimson
Oreana — Lauren Jones
Pittsfield — Madison Snider
Quincy — Mallory Conrad
INDIANA
Bedford — MacKenzie Carter
Brownstown — Reagan Nuss
North Vernon — Josh Petit and Joel Petit
Valparaiso — Isaac Bowser and Nathan Parker
KENTUCKY
Campbellsville — Jonathan Young
Edgewood — Madelyn Lawson
Lawrenceburg — Matthew Quire
Louisville — Noah Hill
MARYLAND
Bel Air — Natalie Miller
Chester — Blaine Hergenrother
Easton — Caden Massey
Ellicott City — Kelsey Cyr
Mount Airy — Molly Kichline
Severn — Isaac Curtis and Connor McCoy
MICHIGAN
Fowler — Carter Pline
Manitou Beach — Brookstyn Black
MISSOURI
Waynesville— Lexi Gammello
MISSISSIPPI
Biloxi — Cameron Debord
NEW HAMPSHIRE
Merrimack — Ashley Farrar
NORTH CAROLINA
Winston Salem — Claire Allen
PENNSYLVANIA
Connellsville — Trevor Martin
Ephrata — Brooklyn Hambrick and Ethan Hambrick
Erie — Melissa Alvis
Delmont — Rebecca Shissler
Dillsburg — Tyler Beaty
Dover — Nathan Lahr
Manchester — Aubrey Shaffer
Milton — Peggy Ulmer
Moon Township — Burke Brianna
Narvon — Hunter Winey and Kierston Winey
Pittsburgh — Abby Schmetzer
SOUTH CAROLINA
Blufton — Peyton Davis
TENNESSEE
Knoxville — Briella Owens
Ashland City — Hannah Young
TEXAS
Georgetown — Ashlyn Henderson
VIRGINIA
Forest — Mike Basko
Sandston — Madison Johnson
Midlothian — Macy Varner
WEST VIRGINIA
Wheeling — Lillian Croft
Bruceton Mills — Emma Weaver
Fayetteville — Naomi Weaver
Clarksburg — Jason LaAsmar
South Charleston — Benjamin Slater
OUTSIDE USA
NETHERLANDS — Pim Solano, Micah Sanchez Enamorado
HONDURAS — Sarah Post, Arely Staff
NORWAY — Hallvard Sigurbjornsson
ICELAND — Guomundur Alvis
For more information on MVNU, visit mvnu.edu.