The Grapevine is a feature of Mount Vernon NOW, a magazine published quarterly for alumni and friends of Mount Vernon Nazarene University. Due to the commemorative 50th Anniversary edition of the NOW magazine, updates submitted during 2018 will live online.
The Grapevine is a terrific way for our alumni to update about their lives -- from marriage to promotions to birth of children. It is also a great way to stay informed about your college classmates!
Dr. William Kent Youngman ('81) recently completed his first year as CEO of Rocking Horse Community Center, a federally qualified community health center in Clark and Madison counties in Ohio. Prior to joining Rocking Horse in 2017, Dr. Youngman was the CEO of the Mental Health and Recovery Board of Clark, Greene, and Madison counties. Kent and Doreen (Flemming '82) have two adult children and currently reside in Beavercreek, Ohio. The Youngmans are proud grandparents.
---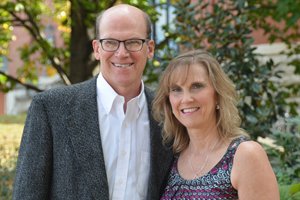 Tim Myatt ('81) completed a Doctor of Business Administration degree from Anderson University in 2017. He is the Associate Professor and Chair of the Department of Technology and Design at Trevecca Nazarene University. Traci (Willoughby '83) Myatt completed a Master of Arts degree in Collaborative Piano from Middle Tennessee State University in 2015. She is a freelance pianist and Executive Assistant at Nashville First Church of the Nazarene. They have been together for 35 years. tmyatt.usa@gmail.com
---
John Cadwell ('82)
 has been the hardware department manager at Walmart Supercenter in Coshocton, Ohio for 14 years and has been the pastor of Dutch Run Trinity Church of Christ for six years. Cadwell has been cancer free for eight years. 
revjrc@yahoo.com
---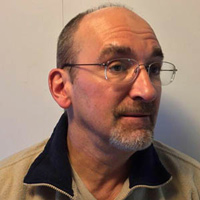 Lenny Yokiel ('82) recently signed a children's book publishing contract for market release with Covenant Books of a revised self-published children's book to be announced. lenny.yokiel@gmail.com
---
Kent McMillan ('87) accepted a new position as a business planning and analyst on Aug. 17. He is currently working for Boeing Guidance and Repair Center in Heath, Ohio. After graduating from MVNU, Kent joined Diamond Power Specialty Company in Lancaster, Ohio in June of 1986, and then joined Cooper Energy Services in December 1991. He married his wife, Rebecca, on July 10, 2010, and the couple welcomed their daughter, Constance on July 8, 2015.
---
D. David Sapp ('87) has received the 2018 Individual Excellence Award for Poetry from the Ohio Arts Council. His poems have been on display across the United States, and also in Canada, the United Kingdom, and Austria. His poems detailed his experiences through teaching and ordinary life and highlight the significance of attentiveness and vision. Sapp currently serves as the Professor of Art and the Director of the Little Gallery at Bowling Green State University.
Mike Miller ('90) received a kidney transplant on March 24, 2018 after being on dialysis for 6 years.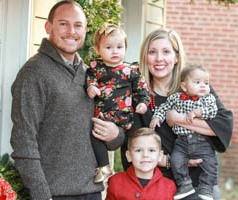 Jason ('00) and Tricia ('02) Guilliams have welcomed two wonderful children into their family through adoption. Jackson (6) became a big brother to Emerson (19 months) on October 3, 2016. Nine months later, Tobin (10 months) completed their family on July 6, 2017. Tricia and Jason currently reside in Mansfield, where Tricia serves as MOPS coordinator and takes care of the family. Jason is approaching nine years with State Farm and was promoted to his current role as an Agency Field Leader. guilliams.jason@gmail.com
---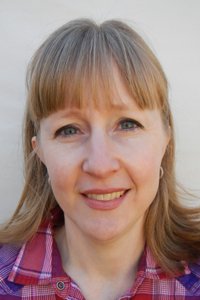 Mary (Johnson '01) McKenzie recently published a Christian children's book "Andrew's Kernel of Truth" available on Amazon.com. This Bible-based story is a great read for all ages. Mary was a nursing student at Mount Vernon Nazarene College from 1998-2001 before transferring to MidAmerica Nazarene University to complete her degree. Currently, she is an oncology nurse at Sletten Cancer Center in Havre, Montana. Mary and her husband, Chad ('97) are parents to five children. The McKenzies are church planters along Montana's Northern border. cmmckenzie13@yahoo.com
---
Chris
 and 
Teresa (Fogle '03) Baker ('03)
 wrote two chapters in Tom Oords' new book, "Uncontrolling Love: Essays Exploring the Love of God, with Introductions." Teresa has a chapter titled Infertility and Essential Kenosis, which focuses on the problem of evil from a personal testimony point of view. The book is available on Amazon. 
(link)
---
Nate Owens ('05) and Hope Tallent Owens have accepted the position of Regional Communications Coordinators for the Church of the Nazarene Asia-Pacific Region. They will move to Manila, Philippines for a two-year term.
---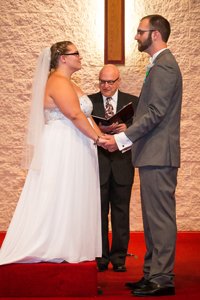 Kristina (Carver '08) Jukiewicz
 married Christopher Stratton on July 22, 2017, in the R.R. Hodges Chapel Auditorium on MVNU's campus. 
teachingkj86@gmail.com
---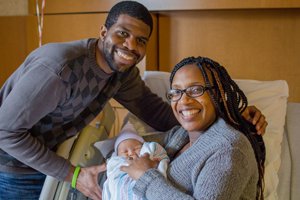 Tyrome ('08) and Megan Turner welcomed their son, Tyrome Turner III, on Nov. 11, 2017.
---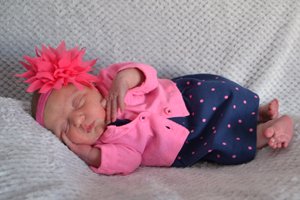 Austin Lamos ('09) and Heidi Lamos announce the birth of their first daughter, Myah Rose Lamos, who was born Sept. 3, 2017. Austin is currently working as the Academic Coordinator for Pennsylvania Adult and Teen Challenge located in Rehrersburg, Pennsylvania. The Lamos family currently reside in Myerstown, Pennsylvania.
---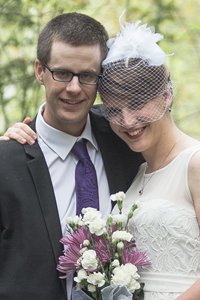 Sarah Einselen ('11) married Matthew McGhee on May 28, 2017, at a relative's home in Elliot Lake, Ontario, Canada. They have established their residence in Logansport, Indiana, where Sarah has been news editor at the Pharos-Tribune for the past five years and was interim editor in 2016. Matthew, previously of Riverton, Manitoba, Canada, is now a process engineer at A. Raymond Tinnerman, Logansport.
---
Kevie (Williams '11) Fiecoat opened up her very own online-boutique, Emmy Mae Boutique. Kevie's desire to open a boutique started at MVNU when she made a mock online boutique for a class. Emmy Mae fulfills Kevie's passion for fashion in a way that works with the family's U.S. Navy lifestyle while achieving the desire to contribute to their family and setting a positive example for their children. Visit today
---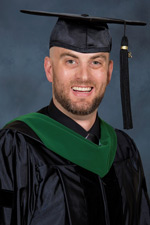 Samuel Nobilucci ('11) received his Doctorate of Osteopathic Medicine on May 12 from The Ohio University. Dr. Nobilucci will be completing his residency training in Emergency Medicine, with plans to pursue additional certifications in Toxicology and Aerospace Medicine.
---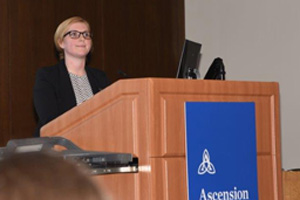 Maradith (Noonen '11) Skalak, M.D. presented her award-winning research during the annual St. John Hospital & Medical Center's Resident Research Day on April 25, 2018. Skalak won first place in the oral competition with her research presentation on "Pediatrics: Inpatient Management of Neonatal Abstinence Syndrome: A Comparison of Two Protocols at St. John Children's Hospital." Dr. Skalak has chosen to practice in the field of Neonatology with an emphasis on research and care for babies born to mothers who have used drugs.
---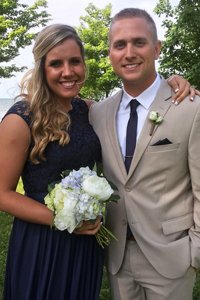 Kendra (Votaw '14) Mosher serves as the assistant women's volleyball coach at Kenyon College and is married to Jacob ('14) who is an interstate gas scheduler at Direct Energy in Dublin, Ohio. The Moshers have been married since 2014.
---
Brent Schnipke ('14) was accepted to a psychiatry residency at Wright State University and will graduate from medical school on May 10.
---
Cambree Moser ('16) has been accepted into The Ohio State University Master of Human Resource Management program, where she will begin her studies in fall 2018. Moser is Graduate Program Coordinator for the College of Food, Agricultural, and Environmental Sciences at OSU.
---
Aubrey Bailey ('17) auditioned for the Columbus Symphony Chorus and was accepted for the 2017-2018 season. Thirty-six singers auditioned and 10 were accepted with Aubrey as the only alto. Aubrey works as a Community Impact Assistant at 104.9 FM The River in Columbus, Ohio.
---
Brent Shilling ('17) studied biology at MVNU and has been accepted into Ohio University Heritage College of Osteopathic Medicine, Dublin campus.
---
Savannah Bryner ('18) has been accepted to dental school at West Virginia University.
---
Matthew Kochheiser ('18) has been accepted to medical school at Ohio University, Athens campus.
---
MacKenzie Walker ('18) has been accepted into the Pharm.D. program at West Virginia University.
---
Jennifer Chlam ('18) has been accepted into the 2018 entering optometry class at The Ohio State University.
---
Doug Medley ('76) passed away in July 10, 2017. He is survived by his wife, Rosemary (Young '76) Medley; and daughters, Amanda L. Medley, Allison L. Medley and Andrea L. Medley.
---
Wendell Westley Towns ('72)
, recently passed away at the age of 68. He proudly served 26 years as a Police Officer for the City of Columbus, Division of Police. He is survived by his sister, Brenda Eloistine Mitchell; nephew, Khari Alimayu Towns; two nieces, Afi Tene Smith and Lisa Tucker; and a host of other family and friends. 
Click here to view obituary.
---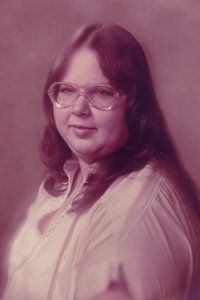 Marcia Hodges ('79)
 passed away in February 2017 due to complications from diabetes. She is survived by her parents 
Ralph
 and 
Ruth Hodges
, a son, daughter, and many nieces and nephews. Submitted by 
Sandra Richardson ('77)
. 
sassione_13@yahoo.com
---
Gary Vandeborne ('93) passed away April 18, 2018. He worked as a chief medical technologist and a scientific data analyst for the National Center for Health Statistics Division of the Centers for Disease Control and Prevention. He lived for the last few years in New Port Richey, Florida. Gary enjoyed visiting 52 of the 59 national parks.
---
Jill (Pound '95) Richardson passed away from an extended illness on Aug. 8, 2017. She is survived by parents; her loving husband, Pastor Guiles Richardson; and children, Natalie and AJ.
---
Christine "Christy" Spohn ('00) passed away on Dec. 8, 2017. Christy was a psychology major while attending MVNU. She is survived by her parents, Allan and Diane; a son, Cameron Spohn and a daughter, Marina Spohn.
---
Brad Booker ('06) passed away on Sept. 10, 2017. He is survived by his wife, Barbie (Ogden '05) Booker, their daughter, Kiley, and numerous family members.
---
Jaime Lynn Vandermark (GPS '09)
 passed away on March 20, 2018. She is survived by her children, Madison Marple, Meghan Marple and Aydden Johnson all of Zanesville; her parents, Linda (Don) Goodyear of Zanesville and John (Alice) Vandermark of New Lexington. Siblings, Kelli Wells, Travis (Gabi) Vandermark, Shaun Vandermark, Greg (Katie) Browning and Tracey (Jason) Wright.
---
Michael Joseph McBride (GPS '16)
, of Marion, passed away on July 18, 2018. Mike will be missed by his wife, Jennifer and children, Halle and Grey, along with mother, Laile; sister, Traci (Steve) McBride-Ellis of Maineville, Ohio; parents-in-law, and Donald (Sarah) Bartelmay of South Carolina.
---
Teresa Haverstock, former Assistant Professor of Management, passed away on Feb. 18, 2018. She is survived by her husband, John; daughters, Mallory (Anthony) Caeton and Hillary Scholz.
---
Loraine Parry, faculty retiree, passed away on Jan. 22, 2018. She started the Home Economics Department at MVNU upon her arrival in 1974 and served there until her retirement in 1992. She was married to Stanton Parry for 57 years and served with him in Christian higher education. She is survived by her son, David (Pam) Parry; and daughter, Teresa (Gordon) Swain.
---
 Submit News: To submit your news to the Mount Vernon NOW, click here. Alumni Relations and the Mount Vernon Nazarene University editorial team have full discretion regarding the presentation of alumni news and images in Mount Vernon NOW magazine. We may edit submissions for length, grammar, style, and other formatting standards, as well as content. We may edit or delete information that promotes values contrary to our biblical values, that may be offensive to readers, and/or that may misrepresent the MVNU community to outside readers.
Report Duplicate Copies/Unsubscribe: Help us serve you better!
If you are receiving more than one copy of Mount Vernon Now, or if you'd like to unsubscribe, please let us know by sending an email describing your situation along with your current name and address to communications@mvnu.edu or by calling 1-800-367-9294. Help us to be good stewards of God's resources!