Toward the portrait of an MVNU graduate
"Intentionally Christian." It's the core of who we are and the framework for all we do at Mount Vernon Nazarene University. We believe we have each been created by a God of love for a unique purpose. Because of that, our mission is to help you cultivate a love of God and love of others through education and excellence. 
But it's more than just going to Chapel and praying before class. (Which you will.)  It's about incorporating faith and learning in all activities. As you grow in maturity, this deepening love becomes evident in your scholarship, character, and service.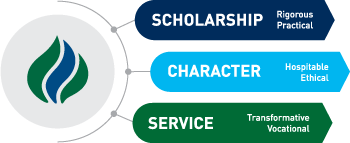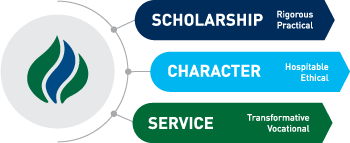 Scholarship: 
You'll embrace learning and exploration as a joyful act of worship

You'll develop as a whole person through an intentional liberal arts education

You'll cultivate habits of academic excellence to last a lifetime

You'll master essential professional skills to help you find success in a future career
Character: 
You'll mature into a person of vibrant faith within the body of Christ

You'll practice intellectual and relational hospitality that embodies love of neighbor

You'll embody humility and inclusivity, responding to intellectual and cultural diversity with grace

You'll grow in Christian virtues and exercises ethical reasoning
Service: 
You'll work toward restoration in a broken world through humble acts of justice and mercy

You'll pursue just and healthy relationships

You'll shape local, national, and global communities to foster the common good

You'll discover, cultivate, and steward your vocational calling, gifts, and resources to promote the flourishing of all creation